ZOTAC GAMING GeForce RTX 3060 Ti 8GB AMP White Edition LHR
Please sign in so that we can notify you about a reply
ZOTAC GAMING RTX 3060 Ti AMP White LHR Ampere Graphics Card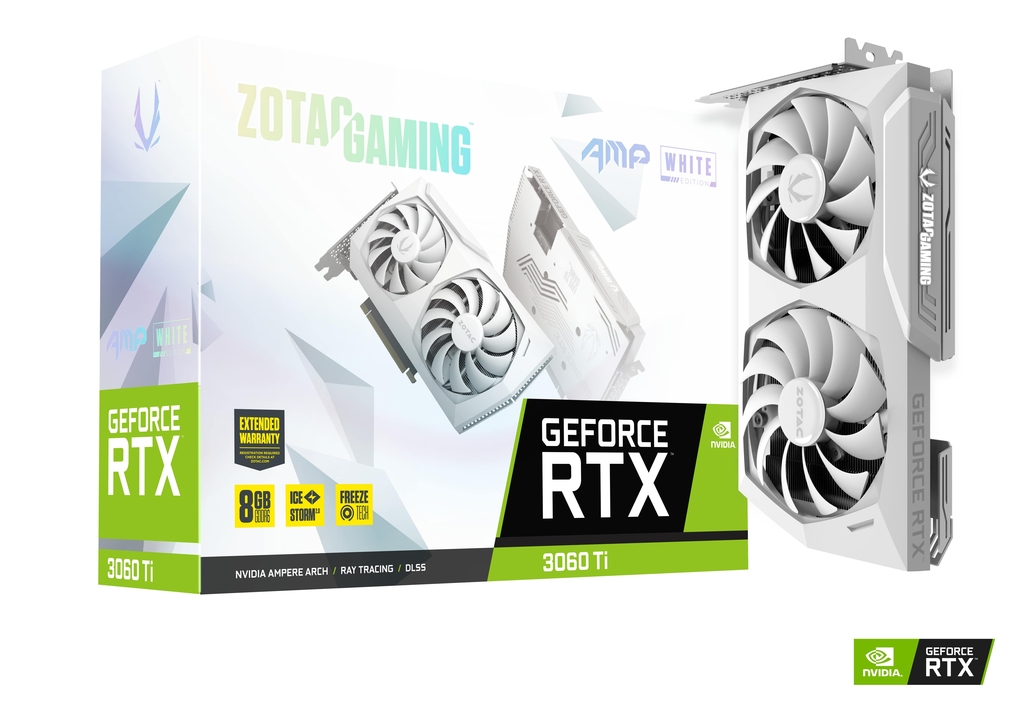 AMPLIFIED, HIGH FIDELITY GAMING
Prepare yourself for an unforgettable gaming experience with the ZOTAC GAMING GeForce RTX Ti AMP White edition GPU,
powered by the groundbreaking NVIDIA Ampere Architecture boasting 2nd generation RT cores and 3rd generation tensors with breathtaking improvements to graphical performance.
The ZOTAC GAMING 3060 Ti features White LED lighting, a full metal-die cast backplate to protect the internal components and a refined IceStorm 2.0 advanced cooling system
including a new 11-blade fan, new improved heatpipe layout and active fan control to keep your new GPU running at its best. Get Amplified with ZOTAC GAMING.

It's official Nvidia have introduced an improved hash rate limiter to newly manufactured graphics cards; reducing their effectiveness for mining crypto currency
and bringing more graphics cards back into the hands of gamers, GeForce RTX GPUs have introduced a range of cutting-edge technologies —
RTX real-time ray tracing, AI-powered DLSS frame rate booster, NVIDIA Reflex super-fast response rendering for best system latency, and many more
— created to meet the needs of gamers and those who create digital experiences. Identified by a "Lite Hash Rate or LHR Label" Nvidia believe this additional
step will get more GeForce cards at better prices into the hands of gamers everywhere.
4864Cuda Cores
1410 MHzCore Clock
1755 MHzBoost Clock
8GBGDDR6 Memory
IceStorm 2.0 Cooling - Redefined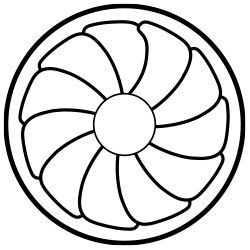 11 BLADE FAN
The all-new 11 blade fan design increases airflow by up to 10% when compared to previous generations.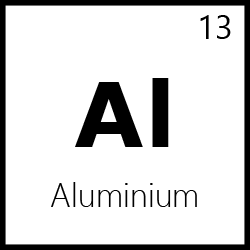 ALUMINIUM FIN-STACK ARRAY
A Powerful aluminium finned heatsink paired with copper heat pipes removes heat and distribute it more efficiently than ever before.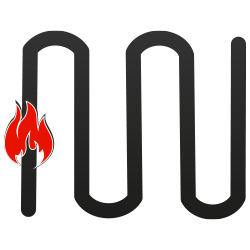 DIRECT CONTACT GPU
A new and improved heatpipe layout increases direct GPU contact even in a more densely packed space.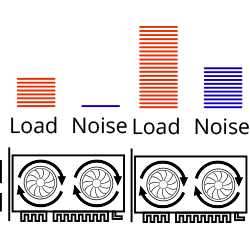 FREEZE FAN-STOP TECHNOLOGY
Zotac Gaming have incorporated fan stop technology into the 30 series RTX GPUs enabling quieter cooling whilst under lower demand, reducing wear and tear on the fan system.
NVIDIA Ampere Architecture
2ND GEN RT CORES2X THROUGHPUT
3RD GEN TENSOR CORESUP TO 2X THROUGHPUT
NEW SM2X FP32 THROUGHPUT
DLSS AI Acceleration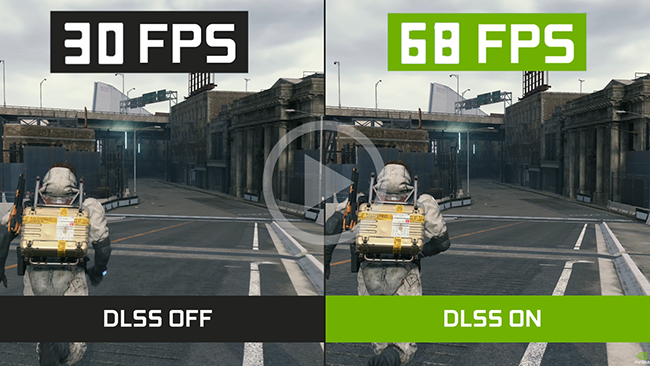 MAX FPS. MAX QUALITY. POWERED BY AI
NVIDIA DLSS is groundbreaking AI rendering that boosts frame rates
with uncompromised image quality using the dedicated AI processing Tensor Cores on GeForce RTX. This gives you the performance
headroom to crank up settings and resolutions for an incredible visual experience. The AI revolution has arrived to gaming.
Ultimate Ray Tracing And AI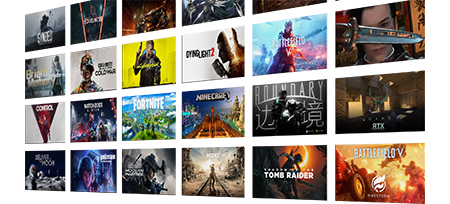 RTX. IT'S ON.
Only NVIDIA's RTX platform includes dedicated RT Cores for ray tracing and Tensor Cores for AI that enable
groundbreaking technologies at breakthrough speed. Experience today's biggest blockbusters like never before. RTX. It's On.
NVIDIA Reflex Dynamically Reduces System Latency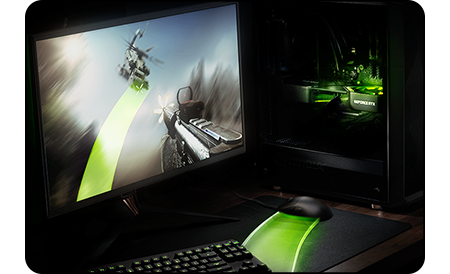 VICTORY MEASURED IN MILLISECONDS
NVIDIA Reflex delivers the ultimate competitive advantage. The lowest latency. The best responsiveness.
Powered by GeForce RTX™ 30 Series GPUs and NVIDIA® G-SYNC® monitors. Acquire targets faster, react quicker,
and increase aim precision through a revolutionary suite of technologies built to optimise and measure system latency for competitive games.
Create as Fast as your Imagination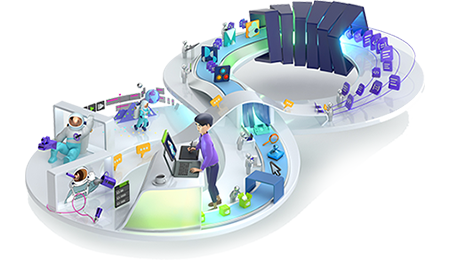 UP YOUR CREATIVE GAME
Take your creative projects to a new level with GeForce RTX 30 Series GPUs. Delivering AI-acceleration in top creative apps.
Backed by the NVIDIA Studio platform of dedicated drivers and exclusive tools. And built to perform in record time.
Whether you're rendering complex 3D scenes, editing 8K video, or livestreaming with the best encoding and image quality,
GeForce RTX GPUs give you the performance to create your best.
Transform any Room Into your Home Studio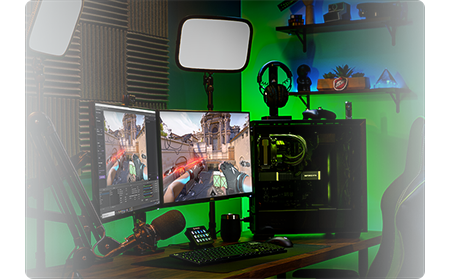 STREAM LIKE A BOSS
Live streamers can now level up their game even further with the new NVIDIA Broadcast app.
It upgrades any room into a home broadcast studio by transforming standard webcams and microphones into smart devices through the power of AI.
The Broadcast app offers three AI-powered features which are: Noise Removal, Virtual Background and Auto frame so the focus always remains on you.
DirectX Raytracing Allows Incredibly Realistic Graphic Effects
DIRECTX 12 ULTIMATE OFFERS FEATURES LIKE RAY TRACING AND VARIABLE RATE SHADING
DirectX Raytracing allows games to simulate how light works in real life, providing incredibly realistic and beautiful graphics effects like global illumination, reflections, and shadows.
NVIDIA has partnered closely with Microsoft to enable full DXR support on GeForce GPUs. GeForce RTX GPUs were designed from the start for the extreme demands
of ray-tracing workloads. Specialised RT cores, found only on GeForce RTX graphics cards, provide billions of rays per second of performance, and up to 3X the frame rates with
DXR games and applications. This makes ray tracing at real-time frame rates possible for the first time.
Product Specification
PCIe 4.0 (x16) [PCIe 3.0 Backwards Compatible]
1 x HDMI 2.1 ,
3 x DisplayPort 1.4a