Hp Storeeasy 1450 16tb Sata Storage
HPE StoreEasy 1450 16TB SATA Storage
| | |
| --- | --- |
| Your business faces many challenges – why should your storage be one of them? With HPE StoreEasy 1000 Storage you get optimized, efficient, protected and highly available storage to easily address your file and application data needs. Tailored for small to medium businesses, branch offices, and workgroup environments, you can easily and economically support large numbers of users and devices, and store growing volumes of files - such as documents, images, audio files, and videos, as well as some application workloads too. Get more out of your file storage with StoreEasy's non-intrusive data de-duplication that delivers an average 50-60% in space savings.1Your data is indispensable and protected as such while at rest and in flight through features like built-in encryption, sophisticated access controls, online snapshots, and the ability to run endpoint protection and backup software onboard. | |
Windows Storage Server 2016 available for new HPE StoreEasy 1000 CTO & select BTO models and existing systems, with improved security and an enhanced deduplication engine for large files and volumes.
Scale capacity, not footprint, with 25 percent greater density for up to 280 TB raw capacity in a 2U rack-mount form factor using 10 TB drive bundles.

Optimized and Tailored for File Storage
HPE StoreEasy 1000 Storage is built on industry-leading HPE ProLiant Server DNA and comes with pre-configured hardware and Microsoft® Windows® Storage Server 2016 or 2012 R2 OS. Get your NAS out of the box and online fast with tools that simplify installation and curb common configuration errors.
The HPE StoreEasy Dashboard consolidates all key status information, including capacity utilization, performance, and health, in a single interface, reducing the need to navigate multiple tools and interfaces for day-to-day management and monitoring.
Economical hard disk drive (HDD) bundles make it easier for you to buy, deploy and provision additional storage capacity over the life of the product using guided configurations through the Pool Manager provisioning tool. Low capacity email alerts reduce disruption from capacity limitations.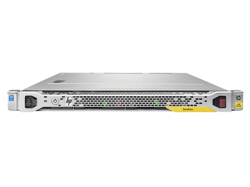 Efficiency Saves you Time and Money
Achieve an average of 50 percent space savings with granular data deduplication and compression.1 In Windows Storage Server 2016-based HPE StoreEasy 1000 systems, an enhanced deduplication engine supports large files, up to 1 TB, and volumes up to 64 TB.
Built-in file sync and share enables employees, mobile workers and distributed teams to access their work files from any Internet-connected desktop, smartphone, or tablet. Organizations can apply policies to wipe devices remotely and enforce lock screen passwords to protect data on employee devices.
Advanced data management capabilities automatically improve use of resources, comply with data retention policies, and enhance protection of sensitive files—even if they're downloaded from HPE StoreEasy and emailed to unauthorized recipients.

Multi-dimensional Protection for Your Data
HPE StoreEasy 1000 Storage protects data while at rest with file system encryption and with Microsoft BitLocker® drive encryption, while it is being transferred with SMB encryption and signing, and at the physical drive level with a lockable bezel for multi-dimensional file data security.
File Classification Infrastructure can dynamically identify files based on sensitivity and implement sophisticated access controls based on your organization's requirements using Active Directory Rights Management Services.
Install and run endpoint protection such as antivirus on the system itself—reducing the cost and complexity of connecting an external endpoint protection server. Prevent against data loss with Volume Shadow Copy Service online snapshots and simple cloud backup to Microsoft Azure.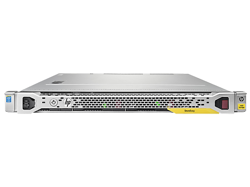 Highly Available to Prevent Disruption to Your Business and Users
HPE StoreEasy 1000 Storage increases uptime with standard features including nearly continuous health monitoring with HPE Active Health System, redundant components, file system online self-healing, online verification, and rapid repair that reduces downtime from file corruption to minutes.
Protect data from simple errors or massive failures using built-in replication, up to 100 TB, or opt for Double-Take Availability replication software. Get support from file storage experts with onsite parts and labor warranty for the system, and software telephone support.
The manufacture company:
HP
Product Specification
Ethernet Controller:
(1) 1Gb 350i Ethernet Adapter
capacity:
16 TB Raw Internal SATA