UniFi AC Mesh Pro
---
Simultaneous, dual-band, 3x3 MIMO technology, 802.11AC dual-band access point, capable of speeds of up to 1750 Mbps.
Expand your Wi-Fi network outdoors with the UniFi® AC Mesh Pro Access Point, part of the Ubiquiti Networks® UniFi Enterprise Wi-Fi System. The UAP-AC-M-PRO is a high-performance, outdoor, 3x3 MIMO, 802.11AC dual-band access point, capable of speeds of up to 1750 Mbps. It features a propietary, MIMO-optimized, omni-directional Super Antenna for exceptional 360° coverage, providing symmetrical long-range communications of up to 183 meters.
Manage Your Networks from a Single Control Plane
Intuitive and Robust Configuration, Control and Monitoring
Remote Firmware Upgrade
Users and Guests
Guest Portal/Hotspot Support
:::
Ubiquiti UAP-AC-M-PRO is the pro version of their mesh access points. It can provide coverage to large outdoor areas, such as a park, using a mesh network comprised of mesh access points. This UAP-AC-M-PRO is ideal for applications requiring 3x3 MIMO data rates for close-in omni coverage. The nature of these devices allows for quick outdoor installations and takedowns, without needing prior infrastructure.
Product Features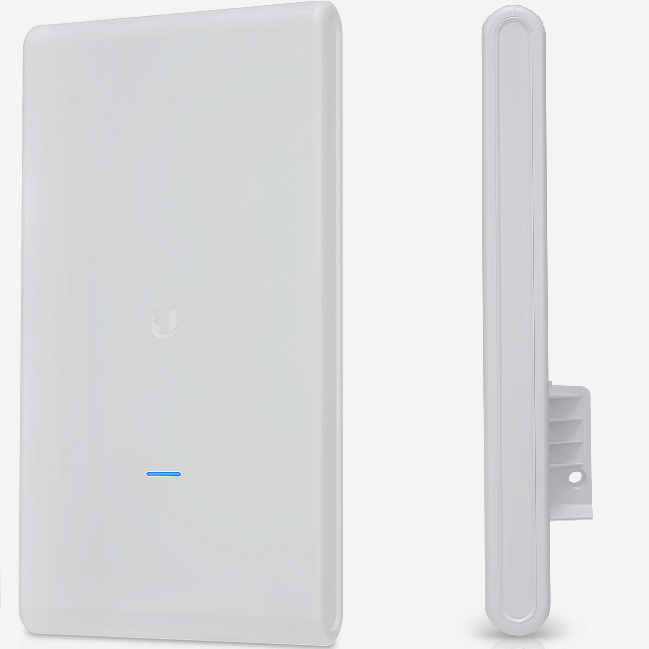 •
Weather-Resistant Form Factor:
The enclosure of the UniFi AC Mesh Pro AP is designed to withstand the elements, making it deal for outdoor deployment.
Unique provisioning LED provides administrator location tracking and alerts for each device.
Built-in dual-band omnidirectional antennas deliver expanded range coverage outdoors.
•
Mounting Flexibility:
The UniFi AC Mesh Pro AP can be mounted on a wall or pole. (all accessories are included).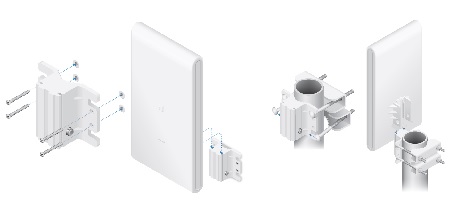 •
Dual Gigabit Ethernet Ports:
The primary port is for data and PoE; the secondary port is for bridging.
•
Multiple Power Options:
You can power the UniFi AC Mesh Pro AP with an 802.3af compatible switch, UniFi PoE Switch, or the included Gigabit PoE adapter. We recommend powering your UniFi devices with a UniFi PoE Switch.
Product Specification
WEP, WPA-PSK, WPA-Enterprise (WPA/WPA2, TKIP/AES)
PoE Injector 48VDC -0.5A Gigabit
343.2 x 181.2 x 60.2 mm (13.51 x 7.13 x 2.37")
Wall/Pole (Pole Kit Included)
-40 to 70° C (-40 to 158° F)
Find similar