TRENDnet TEW-726EC N600 Wireless Dual Band PCIe Adapter
TRENDnet's N600 Wireless Dual Band PCIe Adapter, model TEW-726EC, upgrades a desktop computer to proven
300 Mbps dual band wireless speed and coverage.
Quickly connect to a common 2.4 GHz or a less congested 5 GHz wireless network to seamlessly stream HD
video and surf the internet. Advanced WPA and WPA2 encryption protects your wireless network.Multiple Input Multiple Output (MIMO)
antenna technology increases wireless coverage and signal strength. WMM® Quality of Service (QoS) technology prioritizes gaming,
Internet calls, and video streams.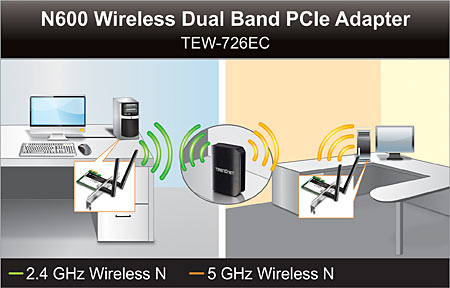 Wi-Fi compliant with IEEE 802.11n standard (dual band 802.11n 2.4 GHz or 5 GHz connection)
Backwards compatible with IEEE 802.11g, IEEE 802.11b, and IEEE 802.11a networks
Detachable antennas
Low profile bracket included
LED activity indicator
Interface PCI Express
Multiple Input Multiple Output (MIMO) antenna technology
Wi-Fi Multimedia (WMM) Quality of Service (QoS) data prioritization
Supports Infrastructure mode via Access Point and ad-hoc network via peer to peer communication
Maximum reliability, throughput, and connectivity with Automatic Data Rate Switching
Supports advanced wireless encryption up to WPA2-RADIUS
Compatible with Windows 8.1 (32/64-bit), Windows 8 (32/64-bit), 7 (32/64-bit), Vista (32-bit), and XP (32/64-bit) operating systems
Easy user setup & diagnostic utilities
Coverage of up to 100 meters indoor (330 feet) and 300 meters outdoor (980 feet)*

Hardware
Interface
PCI Express 1.0
Standards
IEEE 802.11a, IEEE 802.11b, IEEE 802.11g, IEEE 802.11n
LED Indicator
Data transmission: blinking
Link established: solid
WPS (Wi-Fi Protected Setup): blinking rapidly
Disconnected: blinks every ten seconds
Power Consumption
Transmit mode: 670 mA max
Receive mode: 350 mA max
Supported OS
Windows 8.1 (32/64-bit), Windows 8 (32/64-bit), 7 (32/64-bit), Vista (32-bit), XP (32/64-bit)
Dimensions
66 x 55 mm
Weight
45 g (1.6 oz)
Temperature
Operating: 0° ~ 40° C (32° ~ 104° F)
Storage: -20° ~ 75° C (-4° ~ 167° F)
Humidity
90% max (non-condensing)
Certifications
CE, FCC
Wireless
Modulation
DBPSK, DQPSK, DSSS, CCK, BPSK, QPSK, 16-QAM/64-QAM with OFDM
Antenna
2 x 2 dBi dipole detachable antennas with reverse SMA connector
Frequency
802.11b/g/n: 2.400 ~ 2.483 GHz
802.11a/n: 5.150 ~ 5.350 GHz / 5.725 ~ 5.825 GHz (FCC)
802.11a/n: 5.150 ~ 5.350 GHz / 5.470 ~ 5.725 GHz (ETSI)
Data Rate (auto fallback)
802.11a: up to 54 Mbps
802.11b: up to 11 Mbps
802.11g: up to 54 Mbps
802.11n: up to 300 Mbps (for 2.4 or 5 GHz)
Output Power
2.4 GHz: Typical RF Output Power (tolerance +/- 2 dB) 802.11b: 18 dBm
802.11g: 18 dBm
802.11n: HT20: 18 dBm
802.11n: HT40: 13 dBm
5 GHz: Typical RF Output Power (tolerance +/- 2 dB) 802.11a: 16 dBm
802.11n: HT20: 13 dBm
802.11n: HT40: 13 dBm
Receiving Sensitivity
802.11a: -65 dBm (typical) at 54 Mbps
802.11b: -76 dBm (typical) at 11 Mbps
802.11g: -65 dBm (typical) at 54 Mbps
802.11n: -62 dBm (typical) at 300 Mbps (for 2.4 or 5 GHz)
Encryption
64/128-bit WEP, WPA / WPA2-PSK, WPA/WPA2-RADIUS
Channels
2.4 GHz: 1~11 (FCC), 1~13 (ETSI)
5 GHz: 36, 40, 44, 48, 149, 153, 157, 161, 165 (FCC) 36, 40, 44, 48, 52, 56, 60, 64, 100, 104, 108, 112, 116, 120, 124, 128, 132, 136, 140 (ETSI)

Package Contents

TEW-726EC
CD-ROM (Utility & User's Guide)
Multi-Language Quick Installation Guide
Standard & Low Profile Brackets
The manufacture company:
TRENDnet
Product Specification
Operating Frequency:
802.11a/n: 5.150 ~ 5.350 GHz / 5.470 ~ 5.725 GHz (ETSI)

802.11a/n: 5.150 ~ 5.350 GHz / 5.725 ~ 5.825 GHz (FCC)

802.11b/g/n: 2.400 ~ 2.483 GHz
Antenna Gain:
2 x 2 dBi dipole detachable antennas with reverse SMA connector
المعيار اللاسلكي:
IEEE 802.11a, IEEE 802.11b, IEEE 802.11g, IEEE 802.11n
Output power:
2.4 GHz: Typical RF Output Power (tolerance +/- 2 dB) 802.11b: 18 dBm

5 GHz: Typical RF Output Power (tolerance +/- 2 dB) 802.11a: 16 dBm

802.11g: 18 dBm

802.11n: HT20: 13 dBm

802.11n: HT20: 18 dBm

802.11n: HT40: 13 dBm