Cisco SG 300-10SFP (SG300-10SFP-K9) 8-Port Gigabit SFP Switch, 2x Combo mini-GBIC ports, 300 Series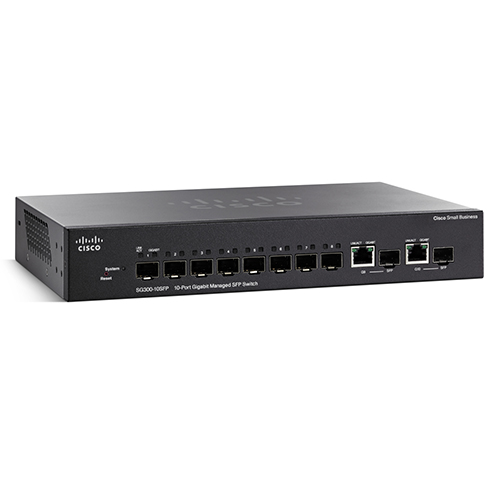 Ports
8x Gigabit SFP Ports
2 x Combo mini-GBIC Ports
Security
Secure Shell (SSH) Protocol

SSH secures Telnet traffic to and from the switch

Secure Sockets Layer

(SSL) SSL support: Encrypts all HTTPS traffic, allowing highly secure access to the browser-based managemen GUI in the switch

IEEE 802.1X (Authenticator role)

802.1X: RADIUS authentication and accounting, MD5 hash; guest VLAN; unauthenticated VLAN,
single/multiple host mode and single/multiple sessions
Supports time-based 802.1X
Dynamic VLAN assignment

Layer 3 isolation

Allow/disallow routing between IP subnets or directly connected IP networks

Layer 2 isolation Private VLAN Edge (PVE) with community VLAN

PVE (also known as protected ports) provides Layer 2 isolation between devices in the same VLAN, supports multiple uplinks

Port security

Locks MAC addresses to ports, and limits the number of learned MAC addresses

RADIUS/TACACS+

Supports RADIUS and TACACS authentication. Switch functions as a client

Storm control

Broadcast, multicast, and unknown unicast

DoS prevention
Congestion avoidance

A TCP congestion avoidance algorithm is required to minimize and prevent global
CP loss synchronisation.

ACLs

Support for up to 512 rules
Drop or rate limit based on source and destination MAC, VLAN ID or IP address, protocol, port, differentiated services code point (DSCP)/IP precedence, TCP/ UDP source and destination ports, 802.1ppriority, Ethernet type, Internet Control Message Protocol (ICMP) packets, IGMP packets, TCP flag
Quality of Service
Priority levels
Scheduling

Strict priority and weighted round-robin (WRR) Queue assignment based on DSCP and class of service (802.1p/CoS)

Class of service

Port based; 802.1p VLAN priority based; IPv4/v6 IP precedence/type of service (ToS)/DSCP based;
Differentiated Services (DiffServ); classification and re-marking ACLs, trusted QoS

Rate limiting

Ingress policer; egress shaping and rate control; per VLAN, per port, and flow based
Firmware upgrade
Web browser upgrade (HTTP/HTTPS) and TFTP
Upgrade can be initiated through console port as well
Dual images for resilient firmware upgrades
Port mirroring
Traffic on a port can be mirrored to another port for analysis with a network analyzer or RMON probe. up to 8 source ports can be mirrored to one destination port. A single session is supported.
VLAN mirroring
Traffic from a VLAN can be mirrored to a port for analysis with a network analyser or RMON probe. Up to 8 source VLANs can be mirrored to one destination port. A single session is supported.
DHCP (Options 66, 67, 82, 129, and 150)
DHCP Options facilitate tighter control from a central point (DHCP server) to obtain IP address, autoconfiguration
(with configuration file download), and DHCP relay,
Text-editable config files
Config files can be edited with a text editor and downloaded to another switch, facilitating easier mass deployment
Smartports
Simplified configuration of QoS and security capabilities
Secure copy
Securely transfer files to and from the switch
Textview CLI
Scriptable command-line interface
Cloud services
Support for Small Business Toolbar application
Other management Traceroute
Single IP management; HTTP/HTTPS; SSH; RADIUS; port mirroring; TFTP upgrade; DHCP client; BOOTP; SNTP; Xmodem upgrade; cable diagnostics; ping; syslog; Telnet client (SSH secure support)
Power Efficiency
Energy Detect Automatically turns off power off on Gigabit Ethernet RJ-45 port when detecting link down
Active mode is resumed without loss of any packets when the switch detects the link up
Cable length detection Adjusts the signal strength based on the cable length. Reduces the power consumption for cables shorter than 10m.
General
Jumbo frames Frame sizes up to 10 KB supported on 10/100 and Gigabit interfaces
MAC table Up to 8000 MAC addresses
Discovery

Bonjour The switch advertises itself using the Bonjour protocol.
Link Layer Discovery Protocol (LLDP) (802.1ab) with LLDP-MED extensions: LLDP allows the switch to advertise its identification, configuration, and capabilities to neighboring devices that store the data in a MIB. LLDP-MED is an enhancement to LLDP that adds the extensions needed for IP phones.
Cisco Discovery Protocol* The switch advertises itself using the Cisco Discovery Protocol.
Buttons
LEDs
System, Link/Act, PoE, Speed
Flash
CPU memory
Packet Buffer
Dimensions (W x H x D)
11 x 1.45 x 6.7 in. (279.4 x 44.45 x 170 mm)
Unit weight
Power
Power saving mode: Energy Detect
Maximum Consumption 110V = 12.8W / 220V = 12.2W
Heat Dissapation (BTU/hr) 42.4
Power Supply: 100-240V 47-63 Hz, internal, universal
Certification
UL (UL 60950), CSA (CSA 22.2), CE mark, FCC Part 15 (CFR 47) Class A
Environmental
Operating temperature 32° to 104°F (0° to 40°C)
Storage temperature -4° to 158°F (-20° to 70°C)
Operating humidity 10% to 90%, relative, noncondensing
Storage humidity 10% to 90%, relative, noncondensing
Package Contents
Cisco SG 300-10 Gigabit SFP Switch
Power Cord
Mounting Hardware
Serial Cable
CD-ROM with user documentation (PDF) included
Quick Start Guide
Minimum Requirements
Web browser: Mozilla Firefox version 2.5 or later; Microsoft Internet Explorer version 6 or later
Category 5 Ethernet network cable
TCP/IP, network
The Cisco SG 300-10SFP 8-Port Gigabit SFP Switch is part of the Cisco Small Business line of network solutions, a portfolio of affordable managed switches that provides a reliable foundation for your business network. This Cisco SG 300-10SFP switch delivers the features you need to improve the availability of your critical business applications, protect your sensitive information, and optimise your network bandwidth to deliver information and applications more effectively. Easy to set up and use, the Cisco SG 300-10SFP 8-Port Switch provides the ideal combination of affordability and capabilities for small businesses, and helps you create a more efficient, better-connected workforce.
Key Features
Eight (8) Gigabit SFP Ports and Two (2) Combo mini-GBIC ports
Nonblocking, store-and-forward switching mechanism
Simplified QoS management enabled by advanced queuing techniques using 802.1p, differentiated services (DiffServ), or type of service (ToS) prioritisation schemes enhances the performance of real-time applications such as voice and video
Configuration and monitoring from a standard web browser with WebView management
Secure remote management of the switch via Secure Shell (SSH) and SSL secure channel network protocols
802.1Q-based VLANs enable segmentation of networks for improved performance and security
Private VLAN Edge (PVE) for simplified network isolation of guest connections or autonomous networks
Automatic configuration of VLANs across multiple switches through Generic VLAN Registration Protocol (GVRP) and Generic Attribute Registration Protocol (GARP)
Automatic port configuration through auto MDI/MDIX and 802.1ab with Link Layer Discovery Protocol (LLDP) and Universal Plug and Play (UPnP) support
User/network port-level security via 802.1X authentication and MAC-based filtering
Increased bandwidth (up to 8x) and added link redundancy with Link Aggregation Control Protocol (LACP)
Enhanced rate-limiting capabilities provide control, including back pressure to control the rate at which data can flow into and out of a port
Multicasting, broadcasting, and flooding control
Port mirroring for noninvasive monitoring of switch traffic
Simple Network Management Protocol (SNMP) versions 1, 2c, and 3 and Remote Monitoring (RMON) support
Fully rack mountable using the included rack-mounting hardware
High performance and reliability
All Cisco SG 300-10SFP 8-Port Gigabit SFP Switches have been rigorously tested to deliver the high availability and performance you expect from a Cisco switch. The solutions speed up file transfer times and improve slow, sluggish networks, while keeping your vital business applications available and preventing costly downtime. As a managed switching solution, the Cisco SG 300-10SFP also gives you the flexibility to manage and prioritise high-bandwidth traffic such as voice. That means you can empower your employees with state-of-the-art communication and productivity solutions, without draining the performance of your other business applications.
Secure Desktop Connectivity
The Cisco SG 300-10SFP Switch can simply and securely connect employees working in small offices with each other and with all of the servers, printers, and other devices they use. High performance and reliable connectivity helps speed file transfers and data processing, improves network uptime, and keeps your employees connected and productive. Additionally, the Cisco SG 300-10SFP Switch provides a high level of security and give you fine-grained control to safeguard your network from unauthorised users. Advanced security features include:
Embedded security to protect management data traveling to and from the switch and encrypt network communications
Extensive access control lists (ACLs) to restrict sensitive portions of the network from unauthorised users and guard against network attacks
Guest virtual LANs (VLANs) to let you provide Internet connectivity to nonemployee users while isolating critical business services from guest traffic
Support for advanced network security applications such as IEEE 802.1X port security to tightly limit access to specific segments of your network
Unified Communications
As a managed network solution, the Cisco SG 300-10SFP Switch provides the performance and advanced traffic-handling intelligence you need to deliver all communications and data over a single network. Cisco offers a complete portfolio of IP telephony and other unified communications products designed for small businesses. Cisco SG 300-10SFP Switchs have been rigorously tested to help ensure easy integration and full compatibility with these and other products, providing a complete small business solution.
IP Telephony Support
Cisco SG 300-10SFP Switches include embedded QoS intelligence to prioritise delaysensitive services such as voice and video, simplify unified communications deployments, and help ensure consistent network performance for all services. For example, automated voice VLAN capabilities let you plug any IP phone (including third-party phones) into your IP telephony network and receive an immediate dial tone. The switch automatically configures the device with the right VLAN and QoS parameters to prioritise voice traffic.
Highly Secure Guest Connectivity
A Cisco SG 300-10SFP Switch let you extend highly secure network connectivity to guests in a variety of settings, such as a hotel, an office waiting room, or any other area open to nonemployee users. Using powerful but easy-to-configure security and traffic segmentation capabilities, you can isolate your vital business traffic from guest services and keep guests' network sessions private from each other.
Optimal Energy Efficiency
The Cisco SG 300-10SFP Switch is designed with a variety of power-saving features across all models, providing the industry's broadest portfolio of "green" switches. These Cisco SG 300-10SFP Switches optimise power use to protect the environment and reduce energy costs, without compromising performance. Powersaving features include:
The latest application-specific integrated circuits (ASICs), using low-power 65-nanometer technology (these chipsets allow for lower power consumption and thinner, more efficient designs)
Embedded intelligence to adjust signal strength based on cable length
Fanless design in most models, which reduces power consumption, increases reliability, and provides quieter operation
Cisco Limited Lifetime Hardware Warranty
Cisco SG 300-10SFP 8-Port Switch includes a limited lifetime hardware warranty with next business day advance replacement (where available, otherwise same day ship) and a limited lifetime warranty for fans and power supplies. In addition, Cisco offers software application updates for bug fixes for the warranty term, and telephone technical support at no charge for the first 12 months following the date of purchase. To download software updates, go to:
The manufacture company:
Cisco
Product Specification
SFP ports:
2 Type:Combo Gigabit SFP
IPv4 / IPv6 Support:
10/100/1000 802.3
LEDs:
System, Link/Act, PoE, Speed
Dimension:
11 x 1.45 x 6.7 in. (279.4 x 44.45 x 170 mm)