Crucial BX100 120GB SATA 2.5 Inch Internal Solid State Drive - CT120BX100SSD1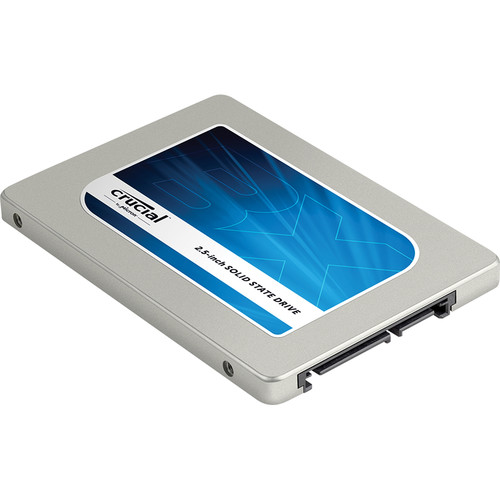 The BX100 120GB SATA 6 Gb/s 2.5" Internal SSD from Crucial features a storage capacity of 120GB with a SATA interface that has a speed of 6 Gb/s. The BX100 loads programs in few seconds, and accelerates demanding applications with ease. It also features a flash memory technology and moves your computer beyond storage limitations of spinning discs. By transmitting data in a digital manner rather than having to seek it out on a spinning platter, the BX100 makes your computer fast and efficient.
Faster Than a Typical Hard Drive

The BX100 SSD is over 15 times faster than a typical hard drive and delivers 535 MB/s sequential reads on both compressible and incompressible data. By treating all data the same, the BX100 allows you to do everything quickly, regardless of whether you are saving an image, accessing a ZIP file, or loading a video. 1
Reliable Than a Typical Hard Drive

Protect your data by storing it on the BX100, which is significantly reliable than a typical hard drive. In the computer industry, storage drive reliability is measured in mean times between failures (MTBF). Most hard drives have MTBF ratings of 0.6 million hours, whereas the BX100 has a reliability rating of 1.5 million hours. In practical terms, the more reliable your drive is, the less likely it is to crash.
Energy Efficient

With Extreme Energy Efficiency technology, the BX100 is over 90% more energy efficient than a typical hard drive. SSDs access data digitally rather than seeking it out on a spinning platter, they consume significantly less power.
Cost-Effective

The BX100 is a cost-effective SSD, and provides a performance boost.
The manufacture company:
Crucial