TRENDnet TEW-643PI Wireless N PCI Adapter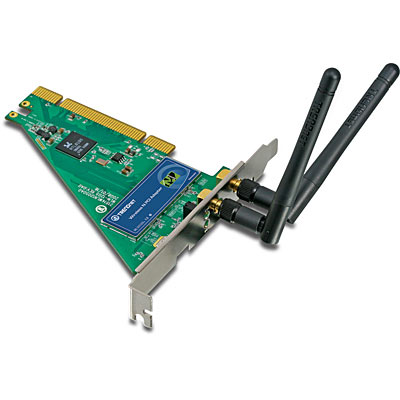 The Wireless N PCI Adapter allows you to connect your desktop computer wirelessly with unsurpassed speed and reliability.
Enjoy up to 8x the speed and 4x the coverage of a wireless g connection. Upgrade your desktop and enjoy faster than wired
speeds with a wireless connection.
Setup is a breeze with Wi-Fi Protected Setup technology. Advanced wireless encryption protects your valuable data.
The latest in MIMO antenna technology ensures the fastest communication speeds that wireless n technology provides.
Stream media, download files, play games and talk online when connected to a wireless n router.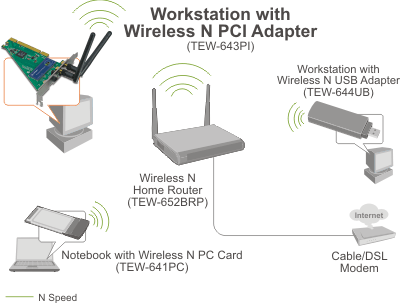 Wi-Fi compliant with IEEE 802.11n standard
Backwards compatible with IEEE 802.11g and IEEE 802.11b devices
Supports Ad-Hoc (Client-Client) and Infrastructure (AP-Client) Mode
Supports Multiple Input Multiple Output (MIMO) technology
Maximum reliability, throughput and connectivity with automatic data rate switching
Supports 64/128-bit WEP, WPA/WPA2 and WPA-PSK/WPA2-PSK
Low interference and high susceptibility guarantee reliable performance
Wi-Fi Multimedia (WMM) Quality of Service (QoS) supported
Compatible with Windows 7/Vista/XP/2000 operating systems
Easy user setup and intuitive diagnostics utilities
Coverage of up to 50 meters indoor and 100 meters outdoor *

Hardware
Interface
32-Bit PCI Bus
Standards
IEEE 802.11b, IEEE 802.11g and IEEE 802.11n
LED Indicator
PWR (power), NET (link activity)
Power Consumption
Receive mode: 550mA (max)
Transmit mode : 600mA (max)
Supported OS
Windows 7 (32/64-bit), Vista (32/64-bit), XP (32/64-bit), 2000
Dimensions (LxWxH)
120 x 80mm (4.7 x 3.1in)
Weight
75g (2.6oz)
Temperature
Operating: 0° ~ 40° C (32° ~ 104° F)
Storage: -10° ~ 70° C (14° ~ 158° F)
Humidity
10% ~ 90% max (non-condensing)
Certification
CE, FCC
Wireless
Module Technique
DBPSK/DQPSK/CCK/OFDM (BPSK/WPSK/16-QAM/64-QAM)
Antenna
2 x 2dBi dipole detachable antennas with Reverse SMA connector
Frequency
2.412 ~ 2.484 GHz
Data Rate (auto fallback)
802.11b: 11Mbps, 5.5Mbps, 2Mbps, and 1Mbps
802.11g: 54Mbps, 48Mbps, 36Mbps, 24Mbps, 18Mbps, 12Mbps, 9Mbps and 6Mbps
802.11n: up to 300Mbps (RX)/150Mbps(TX)
Output Power
802.11b: 15dBm (typical)
802.11g: 15dBm (typical)
802.11n: 14dBm (typical)
Receiving Sensitivity
802.11b: -84dBm (typical) at 11mpbs
802.11g: -68dBm (typical) at 54Mbps
802.11n: -65dBm (typical) at 135Mbps
Encryption
64/128-bit WEP (Hex & ASCII), WPA/WPA2 (TKIP/AES), WPA-PSK/WPA2-PSK
Channels
1~11 (FCC), 1~13 (ETSI)

Package Contents

TEW-643PI
CD-ROM (Utility & User's Guide)
Multi-Language Quick Installation Guide
The manufacture company:
TRENDnet
Product Specification
Antenna Gain:
2 x 2dBi dipole detachable antennas with Reverse SMA connector
المعيار اللاسلكي:
IEEE 802.11b, IEEE 802.11g and IEEE 802.11n
التردد:
2.412 ~ 2.484 GHz
Compatibility:
Windows 7 (32/64-bit), Vista (32/64-bit), XP (32/64-bit), 2000