Ricoh Theta S 360 Camera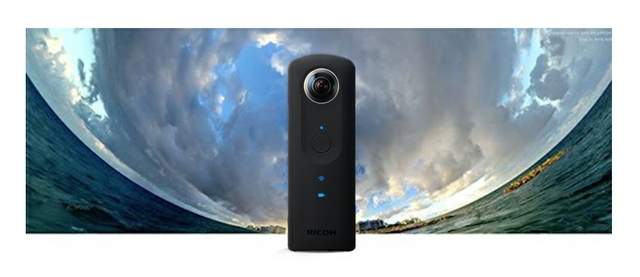 360° Experience
Capture the entire 360° space with a single shot. Use a PC or smartphone to have fun with the space! This is a new world that
revolutionizes conventional photos and videos. Experience the excitement of capturing images that exceed the concept of "photographing."
RICOH Theta S records the moments, spaces and thrills of users throughout the world. Relive the experience of locations,
times and events in other countries. Spherical images provide you with a world view that is simply incomparable with standard photos and movies.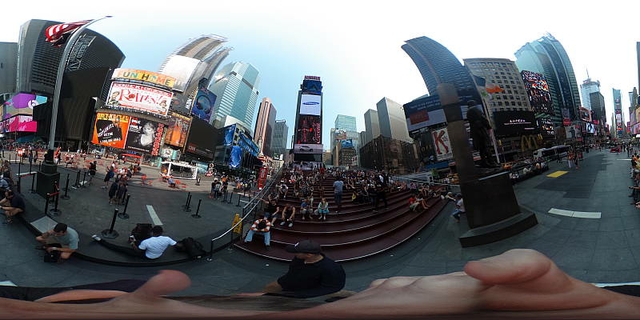 Experience The Feeling Like You're Really There!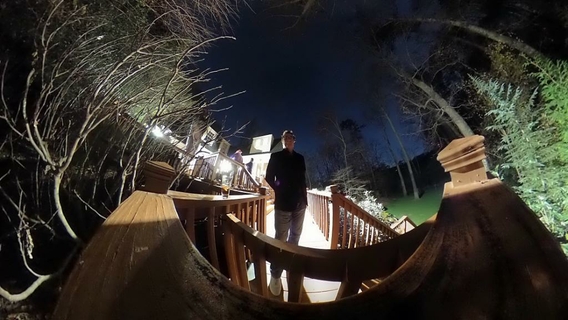 A sleek and unique device allowing you to capture 360° stills and full HD movies with a single click,
the Theta S from Ricoh features updated imaging components and performance attributes for producing broad-field imagery in a
variety of ways. Dual 12MP 1/2.3-inch image sensors pair with bright f/2 twin lenses in order to capture high-resolution
spherical images with each exposure, and a sensitivity range from ISO 100-1600 is available for working in a various lighting conditions.
Automated exposure settings are used for both stills and video recording, or manual settings can be employed when shooting stills
for extended exposure times up to one minute long.
Wireless Connection
In addition to the imaging capabilities, the Theta S has also been revamped with enhanced sharing capabilities,
including the ability to wirelessly share both movies and photos to a mobile device for posting online.
Built-in Wi-Fi also enables remote live view and camera settings adjustment from your smartphone or tablet.
Finished imagery can up uploaded to the dedicated Theta 360 website for sharing with social media sites as
well as published on Google's Street View app to allow others to view your spherical imagery.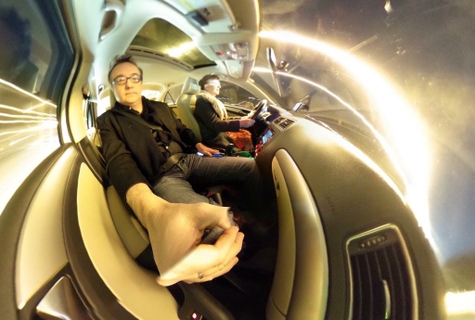 Full HD Movie Recording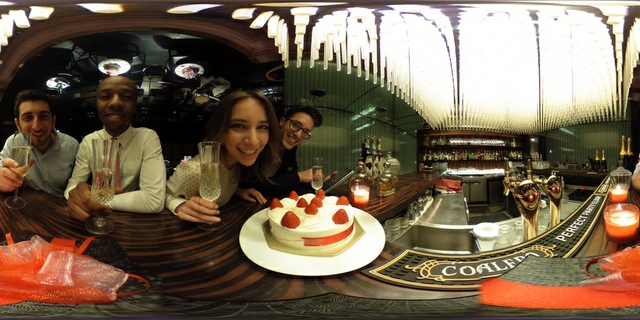 RICOH Theta has a Full HD movie recording supported at 1080p30 (16 Mbps), as well as HD 720p15 (6 Mbps),
and live streaming is possible via the HDMI type-D or micro USB connections at 1080p30, 720p30, 720p15,
or 480p30 frame rates. When saving video to the internal 8GB memory, up to 25 minute clips or 4GB of video can be recorded at a time.
Includes features of Auto, Shutter Priority, and ISO Priority exposure modes are available for stills shooting,
and auto exposure mode is available for video recording or live streaming.
Developing Apps For RICOH Theta
It is now possible to use the API and SDK(Beta version) supplied by Ricoh to develop your own original
RICOH THETA apps! Use your app to join in spreading the enjoyment of "spherical" photography
around the world! Spherical imagery can be uploaded to the Theta 360 website and shared to Facebook,
Twitter, and Tumblr or posted to Google Maps, Google+, and YouTube. The Theta S employs the Google-supported Open Spherical Camera
API for full compatibility with Google services, including the ability to publish your photo spheres on the
Google Street View app for others to explore.
Information on Ricoh Theta S 12MP 360 Degree Digital Compact Camera :
| | |
| --- | --- |
| Type | Point and Shoot Camera |
| Camera Processor | CMOS |
| Colour | White |
| Camera Resolution | 12 Megapixels |
| Other Resolution | 14.4 MP: 5376 x 2688 |
| Aperture Range | f/2 Maximum Aperture |
| ISO Rating | ISO 1600 |
| Shutter Type | Electronic |
| Minimum Shutter Speed | 1/8 sec |
| Other Shutter Features | Speed: 60 - 1/6400 second in Manual Mode, Speed: 1/30 - 1/8000 second in Movie Mode, Speed: 1/15 - 1/8000 second in Movie Mode |
| Sensor Type | CMOS |
| Image Formats | JPEG |
| Audio Formats | AAC |
| Video Formats | MP4, MPEG-4 AVC/H.264 |
| Other Image & Video Features | Auto, Outdoor, Shade, Cloudy, Incandescent light, Incandescent light, Daylight color fluorescent light, Natural white fluorescent light, White fluorescent light, Light bulb color fluorescent light |
| Lens Type | Ricoh |
| Auto Focus | Yes |
| Manual Focus | Yes |
| Image Stabilisation | Yes |
| Manual Exposure | Yes |
| Exposure Compensation | -2.0 - +2.0EV, 1/3EV step |
| Display Type | LCD |
| Display Resolution | 1920 x 1080 Pixels |
| Touch Screen | No |
| USB | Yes |
| HDMI | Yes |
| Band Support | Wi-Fi |
| Water Proof | Yes |
| Temperature | 32 to 104°F (0 to 40°C) |
| Humidity | 0 - 90% |
| Inbuilt Memory | 8 GB |
| Metering Modes | Auto, Manual, Sensitivity Priority, Shutter Priority |
| White Balancing | Auto, Cloudy, Daylight Color, Fluorescent, Fluorescent (Natural White), Fluorescent (White), Incandescent, Incandescent 2, Outdoors, Shade, Tungsten |
| Microphone | Built-In Stereo |
| Battery Type | Lithium-Ion |
| Dimensions | 44.0 x 130.0 x 22.9 mm |
| In the Box | Ricoh Theta S Spherical Digital Camera, USB Cable, Soft Case |
The manufacture company:
Ricoh Theta
Product Specification
Microphone:
Built-In Stereo