ASRock Intel Z690 Taichi Razer Edition ATX Motherboard
Please sign in so that we can notify you about a reply
ASRock Z690 Taichi Razer Edition Intel 12th Gen ATX Motherboard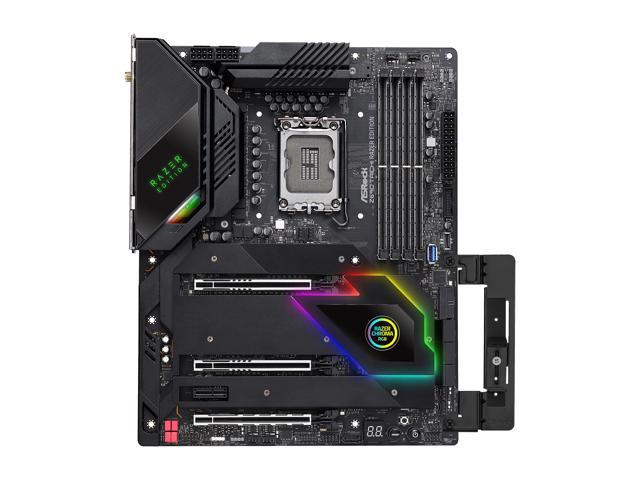 FOR GAMERS. BY GAMERS.
Introducing the new Z690 series of ATX motherboards from ASRock. The COOLEST flagship motherboard,
ASRock Taichi, stands out for its incredible OC performance and premium specification. The Z690 Taichi Razer Edition motherboard supports
12th Generation Intel® Core™ processors. Experience a powerful performance, support for DDR5 memory, while the DIY-friendly design makes installation seamless.
It is also the ultimate control center for all things Chroma RGB, and enables universal compatibility with thousands of ARGB components directly into the ecosystem.
Gamers can take pleasure from the rapid speed that this motherboard delivers. The Killer Networking is designed specifically for competitive gamers,
prioritize real time offering an uninterrupted online entertainment experience.
Please note: This motherboard is compatible with Intel® Socket LGA1700 for 12th Gen Intel® Core™ Processors.
*Supports Intel® Hybrid Technology.
**Supports Intel® Turbo Boost Max 3.0 Technology.
***Supports ASRock Hyper BCLK Engine V.
Intel® Z690Chipset
LGA 1700CPU Socket
12th Gen Intel®Compatible Processors
ATXForm Factor
Optimized VRM Design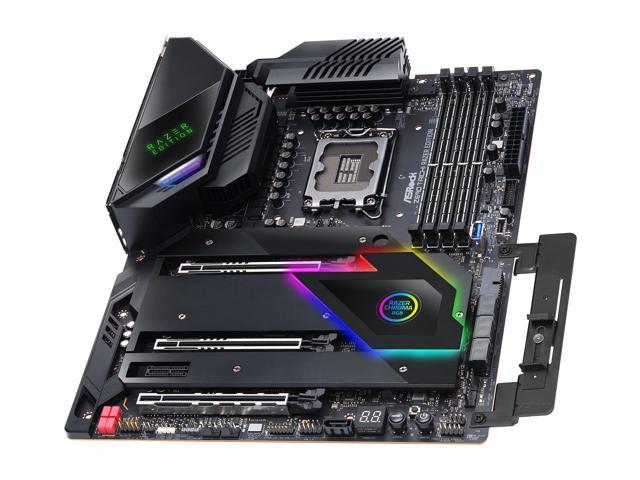 SUPPORTS THE LATEST MEMORY MODULES
Featuring sturdy components and completely smooth power delivery to the CPU. Plus, it offers unmatched overclocking capabilities and enhanced
performance with the lowest temperature for advanced gamers as well. Dr.MOS design features the latest SPS (Smart Power Stage) technology.
It's optimized for monitoring current and temperature of each phase, thus delivering smoother and neater power to the CPU with enhanced performance and OC capability.
1. Supports 12th Generation Intel® Core™ processors
2. 20 Power Phase Design, SPS (Smart Power Stage) & DR.MOS
3. SMT (Surface Mount Technology) DDR5 DIMM slots
4. XXL Aluminium Heatsink and High-Efficiency Electronics
5. USB 3.2 Gen2 Type-C Front Panel Header
6. Z690 Taichi Razer Edition with support for Razer Chroma

Expansion Slots: 3 x PCIe 5.0 x16 / 6 x SATA 6GB/s / 1 x PCIe 3.0 x1
M.2 Key E (Occupied by Wi-Fi Module) / M.2 PCIe Gen3/SATA / M.2 PCIe Gen4x4
Networking: WiFi 6E, Bluetooth, Killer 2.5G LAN & Thunderbolt 4/USB4
DDR5 Memory with Protection Circuit
REINFORCED DIMM SLOT
The reinforced DIMM slot is surfaced mounted onto the motherboard to give better physical strength as well as a more
stable memory signal, with this superior revolutionary design, it is able to dramatically overclock DRAM module up to insane frequency.
DIY FRIENDLY DESIGN
Due to the unique electrical architecture of DDR5 DIMM, there's a high risk of damaging the memory module if AC power isn't disconnected properly
during removal or installation. To prevent this, ASRock has implemented a trouble free protection circuit on every DDR5 motherboard,
lowers the risk of damaging your memory module.
How Sound is Meant to be Heard
INCREDIBLE NAHIMIC AUDIO
Whether you are using headphones, a headset, external or internal speakers, via USB, Wi-Fi, analog output or even HDMI,
Nahimic Audio offers you the most engaging listening experience, vibrant and rich with details.
The Possibilities are Endless with Razer Chroma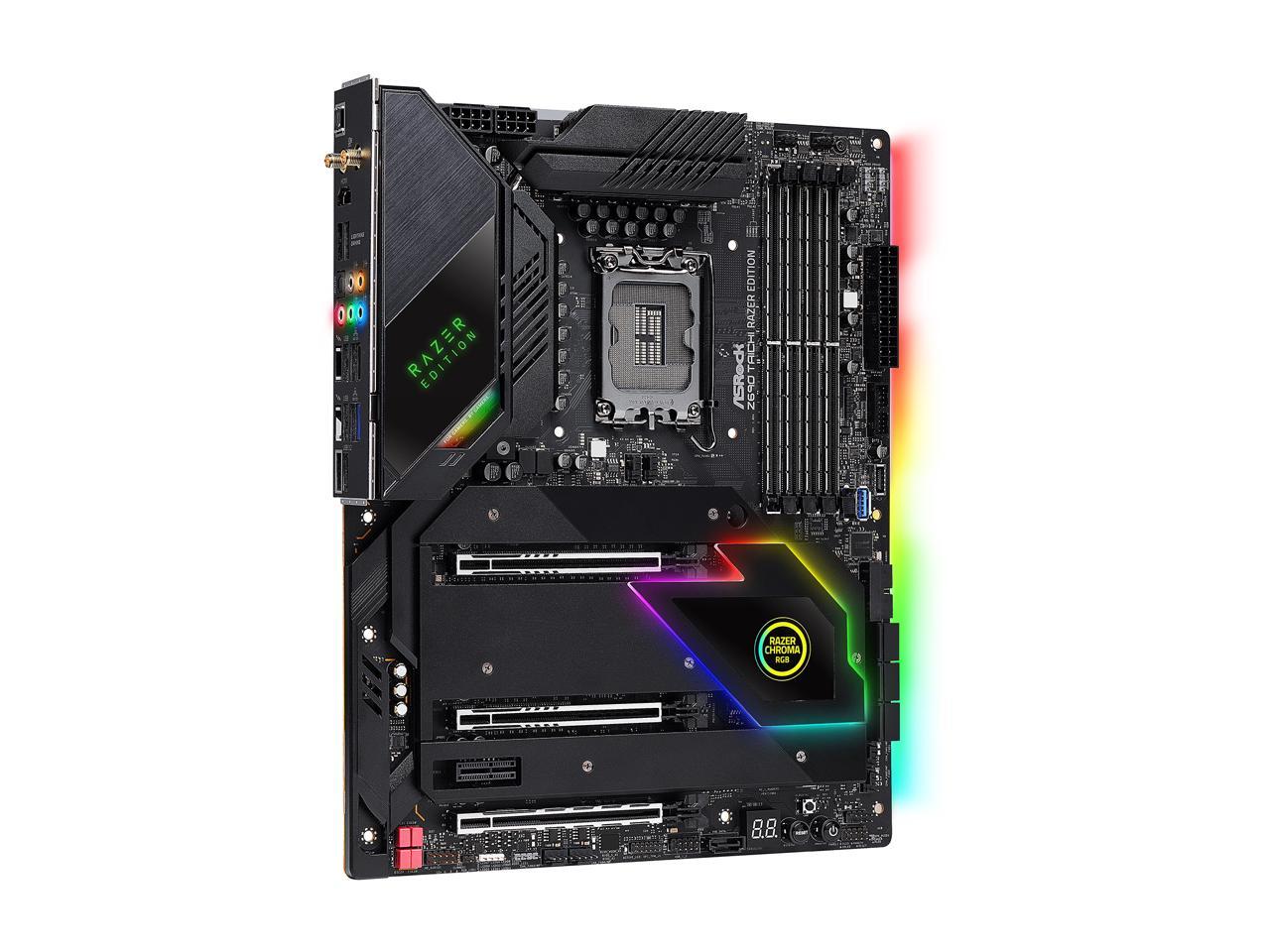 LIGHTING EFFECTS
Whether it's enhancing your immersion through Chroma-integrated games, or designing your setup, Razer offers a level of RGB lighting customization that can't be found anywhere else.
CHROMA STUDIO
If you're looking for an RGB lighting effect that's truly unique, tweak and tinker to your heart's content with our Chroma Studio – where you can modify our existing effects or design your own.
CHROMA CONNECT
From one convenient dashboard, sync up all your Chroma-enabled devices with Chroma-integrated games and applications for a truly immersive lighting experience.
CHROMA VISUALISER
Enjoy a dynamic level of audio visualization with colourful sound waves that jump up and down on your device as you play your favourite music, games, and videos.
Superb Connectivity and Lightning Gaming Ports

8 USB 3.2 GEN1 (4 REAR, 4 FRONT)
The latest USB 3.2 Gen2x2 Type-C delivers up to 20 Gbps data transfer rate which is 2x as fast as previous generation,
providing a blazing fast data transfer interface with reversible USB Type-C design that fits the connector either way.
Includes 8 USB 3.2 Gen1 (4 Rear, 4 Front), 2 x Thunderbolt™ 4/USB4 Type-C, 2 x USB 3.2 Gen2 (Rear) and much more.

Product Specification
Supports 12th Gen Intel Core Processors (LGA1700)
1 x HDMI port ,
2 x Antenna Ports ,
2 x RJ-45 LAN Ports with LED ,
2 x USB 3.2 Gen2 Type-A Ports ,
2 x USB 4.0 Thunderbolt™ 4 Type-C Ports ,
4 x USB 3.2 Gen1 Type-A Ports
Realtek ALC1220 Audio Codec
Microsoft Windows 10 64-bit / 11 64-bit