Linksys EA7500 Max-Stream Dual-Band Wireless-AC1900 Gigabit Router
Please sign in so that we can notify you about a reply
PRODUCT HIGHLIGHTS
802.11ac Protocol
Up to 1900 Mbps Throughput
Dual-Band 2.4 GHz / 5.0 GHz Frequencies
4 x Gigabit LAN Ports
1 x Gigabit WAN Port
1 x USB 2.0 / 1 x USB 3.0 Ports
3 x External, Dual-Band, Antennas
1.4 GHz Dual-Core Processor
FEATURES
Installation is fast and easy. No CD required.
Latest Wireless-AC technology for simultaneously streaming and gaming on multiple devices.
Experience powerful Wi-Fi coverage throughout a medium-size house.
1.4 GHZ DUAL-CORE CENTRAL PROCESSING UNIT (CPU)
Promotes simultaneous high-speed data processing.
NEXT-GEN AC DELIVERS POWERFUL WI-FI TO MULTIPLE DEVICES
The Linksys MAX-STREAM AC1900 features MU-MIMO, the latest advance toward uninterrupted, simultaneous Wi-Fi connections.
Devices such as HD streaming media players, 4K TVs, tablets, and game consoles use a lot of bandwidth. But with MU-MIMO (Multi-User, Multiple-Input, Multiple-Output) technology, the MAX-STREAM AC1900 sends advanced Wi-Fi to multiple devices at the same time and same speed. Your whole family can play, stream, and work at once, without experiencing lag or buffering - at up to 2x the speed of a non-MU-MIMO router.*
ENJOY COMBINED WI-FI SPEEDS UP TO 1.9 GBPS
Our MAX-STREAM AC1900 Multi User-MIMO Router offers two dedicated Wi-Fi bands that deliver combined speeds of up to 1.9 Gbps. It also allows you to make your time online more efficient: simply assign high-bandwidth activities, like 4K video streaming, to the high-speed 5 GHz band, and leave basic activities like email to the 2.4 GHz band.
POWERFUL PROCESSOR FOR IMPROVED PERFORMANCE
Enjoy fast-paced Wi-Fi activities such as online multiplayer gaming with the MAX-STREAM AC1900. Powered by a 1.4 GHz dual-core processor, it is capable of handling three simultaneous data streams. This results in improved Wi-Fi performance and faster Wi-Fi speeds to more devices.
HIGH-SPEED WIRED CONNECTIVITY WITH GIGABIT ETHERNET PORTS
Connect more devices and share files at speeds 10x faster than Fast Ethernet with four Gigabit Ethernet ports. Connect a storage device to the USB 3.0 port and quickly transfer files. Or, share devices such as printers across your Wi-Fi network using the USB 2.0 port.
IMPROVED WI-FI SPEED AND RANGE WITH BEAMFORMING
Direct Wi-Fi signals to each of your mobile devices to increase signal strength and coverage with our MAX-STREAM Wi-Fi router using Beamforming technology. Play video games, listen to music, check emails, shop online, stream HD movies, and more, without having to worry about dropped signals.
SMART WI-FI WITH NETWORK MAP LETS YOU VIEW ALL OF YOUR CONNECTED DEVICES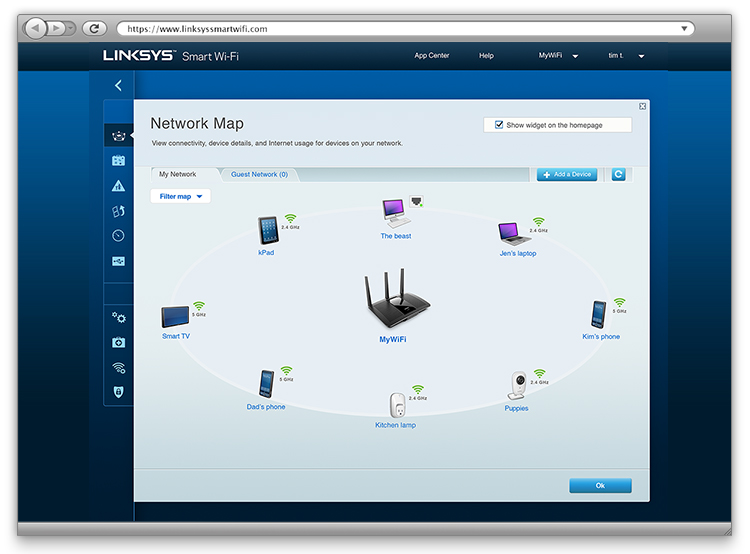 With the Network Map, you can:
See all devices on your network on a single screen
Track online status and signal strength of your devices
Create personalized names to easily identify your connected devices
LINKSYS SMART WI-FI
Linksys Smart Wi-Fi lets you access your network anytime, anywhere. Using your browser or the Smart Wi-Fi mobile app, you can:
Prioritize devices or websites for video streaming and online gaming
Control inappropriate or distracting content
Monitor network activity and speed
Turn Wi-Fi access on or off for any connected device
Create a separate, password-protected guest network
GET SMART IN THREE EASY STEPS
Managing your network with Linksys Smart Wi-Fi is fast and easy:
Set up your wireless home network using a Linksys Smart Wi-Fi Router.
The router will broadcast a wireless signal to your Wi-Fi-enabled devices like gaming consoles, TVs, mobile devices, and printers.
Sign up for a Linksys Smart Wi-Fi Account. It's fast and free.
Smart Wi-Fi software lets you access and control your home network from wherever you are, whenever you need to
Customize your network with the Linksys Smart Wi-Fi apps of your choice.
Upgrade the functionality of Linksys Smart Wi-Fi tools, by downloading exclusive Linksys Smart Wi-Fi apps to your mobile devices.
Product Specification
1x Gigabit WAN port 4x Gigabit LAN ports
2.4 and 5 GHz (simultaneous dual band)
Input: 100-240V ~ 50-60Hz
Internet, Ethernet (1-4), Linksys Logo, WPS