Cisco WAP321 Wireless-N Selectable-Band Access Point
Please sign in so that we can notify you about a reply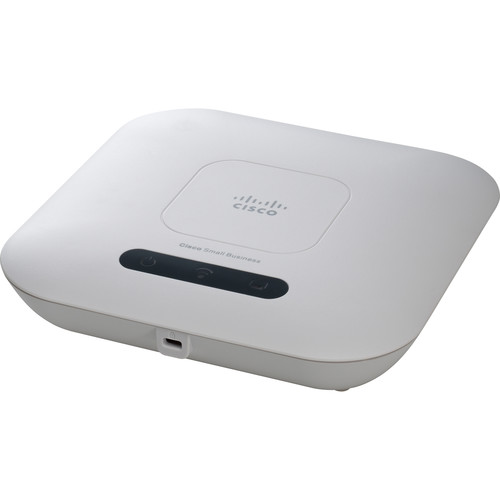 PRODUCT HIGHLIGHTS
Up to 300Mbps
Supports 802.11b/g/n Wi-Fi
2.4GHz or 5GHz Selectable-Band
Power over Ethernet (PoE)
WEP/WPA/WPA2/WPS Security
Client Bridge Mode
Power-Saving Sleep Mode
Highly Secure Guest Access
Intelligent Quality of Service (QoS)
Compact Design, Internal 2dBi Antenna

Over view

:

The WAP321 Wireless-N Selectable-Band Access Point from Cisco is an access point that was built with small businesses in mind. The WAP321 offers selectable-band 802.11n wireless technology to deliver high throughput and extended range throughout an office. This flexible solution can connect up to 20 users and can also be expanded to accommodate additional users and changing business needs.

Advanced quality of service (QoS) features let you prioritize traffic to support bandwidth-sensitive applications. QoS is important if you are looking to take advantage of voice over WLAN (VoWLAN) to place and receive calls over the wireless LAN infrastructure. The WAP321 can also bridge wired LANs together wirelessly and supports Service Set Identifiers (SSIDs) to enable you to segregate traffic for different departments, users and communication devices.

To enhance reliability and safeguard sensitive business information and data, the WAP321 supports Wi-Fi Protected Access (WPA2), which encodes all your wireless transmissions with powerful encryption. 802.1X RADIUS authentication helps keep unauthorized users out, but you'll still be able to grant guests secure access with visitor authentication. Compact with an internal antenna and several mounting options, the WPA321 can build on your existing network to deliver high-performance wireless access with the scalability you need for your business to grow and evolve.

Robust Wireless Coverage & Performance

This access point is an 802.11n multiple-input, multiple-output (MIMO) selectable-band wireless solution. The 802.11n wireless standard builds on the wireless 802.11b/g standards to deliver up to 9 times the performance for greater range and reliability. While 802.11b/g wireless standards communicate over a single stream and antenna, the 802.11n wireless standard has the ability to transmit and receive over multiple antennas to provide higher data throughput. With the ability to configure the access point with either a 2.4GHz or 5GHz frequency band, this wireless access point allows for a cleaner signal

Secure Guest Access

Since the Internet has become a staple in our lives, there will be instances where vendors and customers will need access to the Internet while at your business location. This highly secure guest access solution lets visitors connect to the Internet without any visibility of your business network. This prevents guests accessing and impeding the operations of your business. There is even an option to provide a welcome screen to greet visitors who connect to your guest network

Deployment Flexibility & Security

The WAP321 can operate using either standard DC power or Power over Ethernet (PoE). With PoE, you can connect and power access points with a single Ethernet cable. PoE is convenient when placing access points in areas where power outlets are not accessible. This access point also includes robust security features, such as Wi-Fi Protected Access (WPA2) encryption, rogue access point detection and access control

Simple Setup & Configuration

The wizard-based setup and configuration makes it easy to set up your wireless access point and network. The WAP321 gives you the ability to configure and manage your entire wired and wireless network from a single interface

Specifications

:

Base Station
Standards
IEEE 802.11n, 802.11g, 802.11b, 802.3, 802.3u, 802.1X (security authentication), 802.1Q (VLAN), 802.11i(WPA2 security), 802.11e(wireless QoS), IPv4 (RFC 791), IPv6 (RFC 2460)
Network Protocol
IEEE 802.11n, 802.11g, 802.11b, 802.3, 802.3u, 802.1X (security authentication), 802.1Q (VLAN), 802.11i (WPA2 security), 802.11e (wireless QoS), IPv4 (RFC 791), IPv6 (RFC 2460), RADIUS, syslog, HTTP/HTTPS, Telnet/Secure Shell Protocol (SSH), Simple Network Management Protocol (SNMP)
Data Rate
Up to 300Mbps
Frequency Range
Selectable-band 2.4GHz or 5GHz (not concurrent)
Channel Support
1 to 13 (depending on country)
Security
WEP, WPA, WPA2, Wi-Fi Protected Setup (WPS), access control, secure management, SSID broadcast, rogue access point detection
Antenna
2dBi Internal fixed PIFA antenna
Transmitted Power
802.11b @ 11Mbps: 17dBm
802.11g @ 54Mbps: 13dBm
802.11n @ HT20HT40, MCS15: 13dBm
Power Over Ethernet
IEEE802.3af compliant PoE
Ports
Power, Gigabit Ethernet

General
System Requirements
Linux
Power Requirements
12V 1ADC input
Dimensions
6.66 x 6.67 x 1.38" / 16.9 x 16.9 x 3.5cm
Weight
9.7 oz / 275 g

Packaging Info
Package Weight
1.65 lb
Box Dimensions (LxWxH)
11.3 x 7.8 x 2.7"



Product Specification
Selectable-band 2.4GHz or 5GHz (not concurrent)
2dBi Internal fixed PIFA antenna
6.66 x 6.67 x 1.38" / 16.9 x 16.9 x 3.5cm