D-Link AC5300 Ultra Wi-Fi Router
Please sign in so that we can notify you about a reply
The Ultimate Router for HD Streaming and Gaming
The D-Link AC5300 Ultra Wi-Fi Router (DIR-895L/R) delivers the ultimate performance customers are expecting today for the most demanding tasks, like 4K video streaming, gaming and multiple device usage.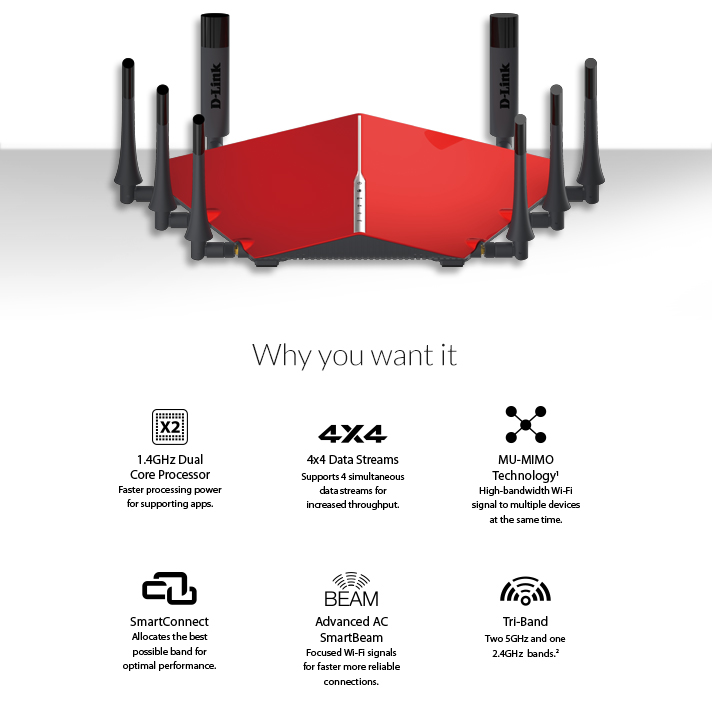 The ultimate Wi-Fi Coverage.
Eight high-performance external antennas and high-power amplifiers will deliver improved Wi-Fi range and signal stability throughout your home. You'll connect to your devices faster and no more dead zones.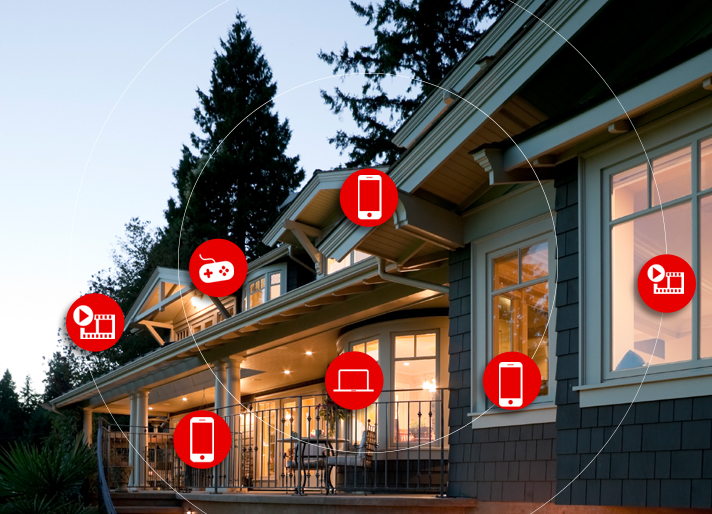 Multi-User MIMO (MU-MIMO)
The DIR-895L/R is designed to support MU-MIMO technology that allows multiple devices to get high-bandwidth Wi-Fi signal at the same time, distributing data more efficiently, giving you the fastest Wi-Fi speeds in your home. You can stream HD media faster, transfer large files really fast and play lag-free gaming.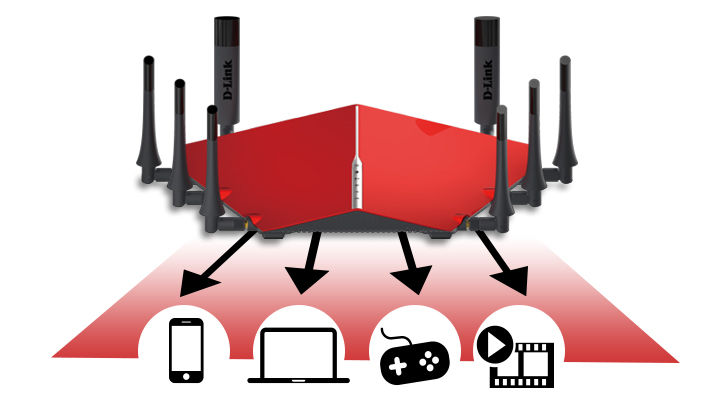 More Processing Power
Want a powerful high-performance processor that can handle multiple tasks at incredible speeds? A dual-core processor boosts multitasking computing power and improves throughput speeds for all of your applications

Smart Connect
Not all Wi-Fi bands are the same, but you don't need to worry about that. With Smart Connect Technology, the ULTRA Wi-Fi Router chooses from the three Wi-Fi bands and automatically connects each device on your network to the best, clearest band available for the best connection every time.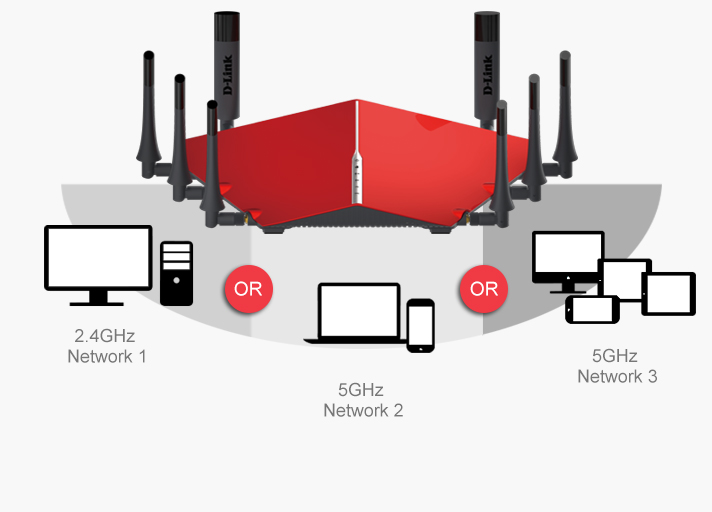 Smart Beam Forming
Improves coverage by directing bandwidth to your devices as you move around your home. You can stream HD video, surf the web, skype your friends and play online games from wherever you are so you'll always get the best experience.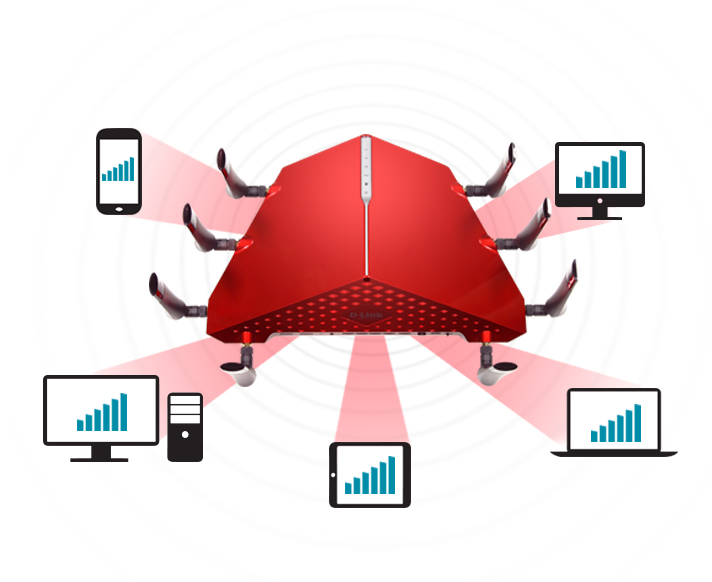 New User Interface
Controlling your network by enabling parental controls, blocking unwanted devices, monitoring internet activity and creating Wi-Fi guest networks is easier than ever with our new interface.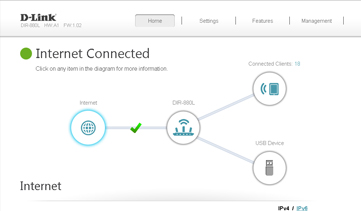 Really fast wired performance
Connect up to 4 wired devices and enjoy the best online experience for
HD Streaming and Gaming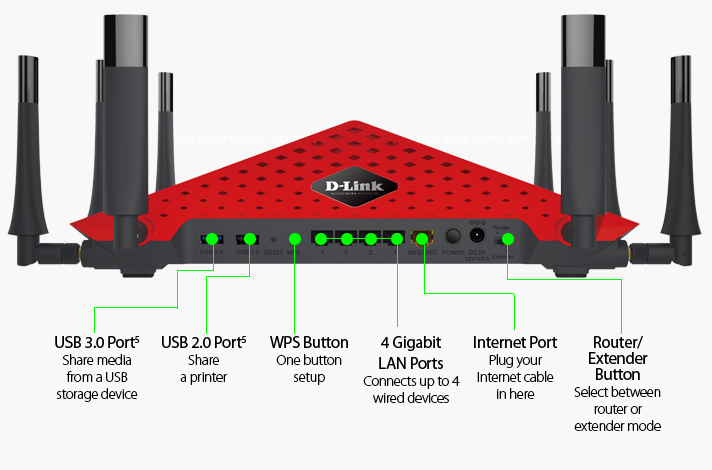 DD-WRT Open Source
The D-Link AC5300 Wi-Fi Router (DIR-895L/R) provides a responsive graphical user interface for an exceptional experience right out of the box. Advanced users have the option to utilize Open Source firmware to modify their router further. The DIR-895L/R router supports the DD-WRT OpenSource, Linux-based operating system offering additional customization and features. For more information visit – www.dd-wrt.com.

Product Specification
• Tri-Band (one 2.4GHz and two 5GHz bands)
Wi-Fi/Gigabit Ethernet (1) WAN, (4) LAN ,
• Four 10/100/1000 Gigabit LAN Ports
• Two USB Ports (one USB 3.0 and one USB 2.0)