LINKSYS RE6700 AC1200 AMPLIFY DUAL-BAND WI-FI RANGE EXTENDER
Please sign in so that we can notify you about a reply
AC1200 Wireless Speed*
Spot Finder Technology
Simultaneous dual band (2.4 GHz and 5 GHz)
UP TO N300 + AC867 MBPS SPEED*
Dual band wireless range extender brings speed and reliability, wherever you are.
UP TO 10,000 SQ.-FT. RANGE**
Extend the range of your wireless router up to 10,000 square feet, eliminating dead zones.
SPOT FINDER TECHNOLOGY
Easy to use, mobile-guided range extender setup to extend Wi-Fi range throughout your home.
WORKS WITH ANY ROUTER
Works with any wireless router including your service provider's router.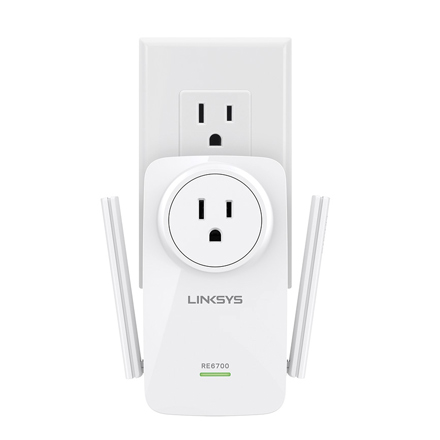 NCREASE YOUR WIRELESS RANGE UP TO 10,000 SQUARE FEET**
With Dual-Band Wireless-AC, the AC1200 AMPLIFY eliminates dead zones and delivers greater range and consistent, high-speed connectivity. This allows you to stream media, play online games, and share content throughout your home.
FIND PERFECT PLACEMENT WITH SPOT FINDER TECHNOLOGY
Compatible with your smartphone, laptop, or tablet, our exclusive Spot Finder Technology provides a unique visual representation of how far or how close the AC1200 AMPLIFY is in relation to your router. The three-step setup ensures that you'll get the maximum Wi-Fi signal to the far reaches of your home and outdoors.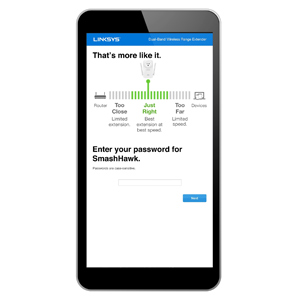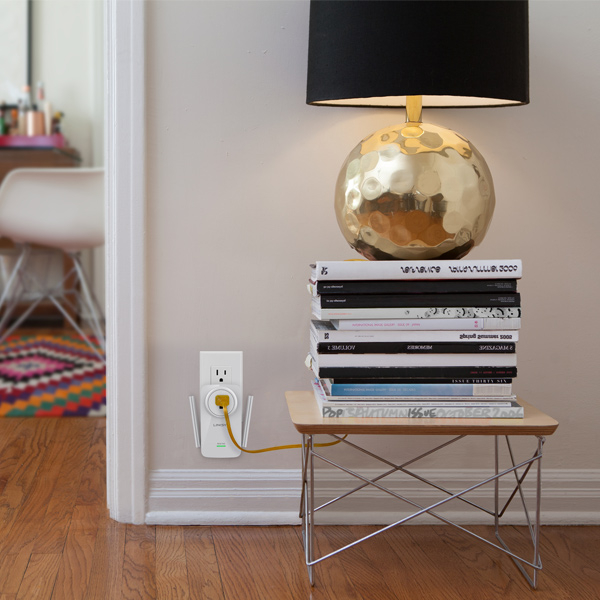 INTEGRATED POWER OUTLET
Thanks to an integrated power outlet, you can maintain use of the power outlet even when the AC1200 AMPLIFY is plugged in. The pass-through function on your range extender works exactly like a normal electrical outlet, and is not controlled in any way by the range extender.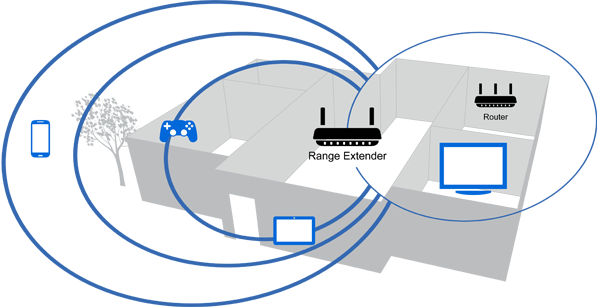 BEAMFORMING FOR STRONGER, MORE FOCUSED WI-FI CONNECTIONS
Featuring dual wireless bands of 2.4 GHz and 5 GHz and Beamforming technology, the AC1200 AMPLIFY can deliver data transfer speeds up to N300 + AC867 Mbps* for uninterrupted streaming, gaming, and more.
CROSSBAND TECHNOLOGY MAXIMIZES WI-FI SIGNALS
Innovative Crossband technology allows for the simultaneous use of both bands, rather than relying on one radio band to do all the work. This allows information to be obtained on one band and transmitted on the other, resulting in reduced dropped data packets, faster media transfer speeds, and a stronger, more consistent signal throughout your home.

ENJOY WI-FI AUDIO THROUGHOUT YOUR HOME
The AC1200 AMPLIFY extender's 3.5mm audio jack allows you to connect speakers to the range extender to stream music wirelessly from your iOS or Android smartphone, tablet, or laptop.
UNIVERSAL COMPATIBILITY
The AC1200 AMPLIFY is compatible with virtually any Wi-Fi router or gateway, including hardware from Internet service providers, and there's no need to adjust your router's settings when installing the extender.
GIGABIT ETHERNET PORT
We equipped the RE6700 with a Gigabit Ethernet port, which is 10 times faster than Fast Ethernet. You can connect various devices such as game consoles, smart TVs, and more to your Wi-Fi network. It also helps provide more Wi-Fi bandwidth to your mobile devices.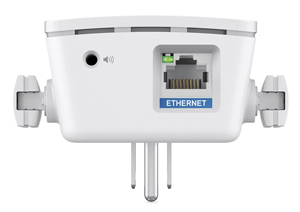 Product Specification
IEEE 802.11a IEEE 802.11b IEEE 802.11g IEEE 802.11n IEEE 802.11ac
WPS, System (Optional Placement)