Homido GRAB VR -Red
A minimalist helmet in mind Google Cardboard
Grab Homido is certified by Google with the "Works With Cardboard" program discussed here.
The key word, simplicity
Grab the Homido comes as a viewer, not setting IPD or focal length.
Grab the Homido retains the fastening system inaugurated on Homido V2, a fixation with 3 pins ensuring maintenance and perfect positioning of the smartphone. This system has the advantage of maintaining the smartphone perfectly horizontal and a marker is also present to ensure proper alignment.
Using Cardboard applications is facilitated by the presence of a large capacitive button.
The mask is used from 13 years and allows to operate the Google shipments for Education program.
Everything is designed for a single use, efficient and friendly.
Compatibility
Smartphones IOS and Android are obviously compatible.
Its opening in front is provided to receive the screen formats of a size between 4.5 and 5.7 inches in diagonal.
IOS for the entire range is compatible from the iPhone 5S to the iPhone 6 Plus. The Galaxy Note and other PHABLET as the Nexus 6 and 6P are also compatible.
The transparent façade keeps the phone safe, without preventing the use of augmented reality applications.
On top, a button to navigate applications without the need for an external controller.
A user-friendly device for everyone
With no attachment system, it is possible to use the Homido Grab a group, with family or friends.
A user can hold the helmet in front of his eyes, and lend to his neighbor at any time without removing the straps or adjust the vision.
A concept conducive to sharing and usability, designed for short and occasional use.
Grab the Homido is of course compatible with many applications Google Cardboard. They can be downloaded directly from the app on any iOS or Android smartphone.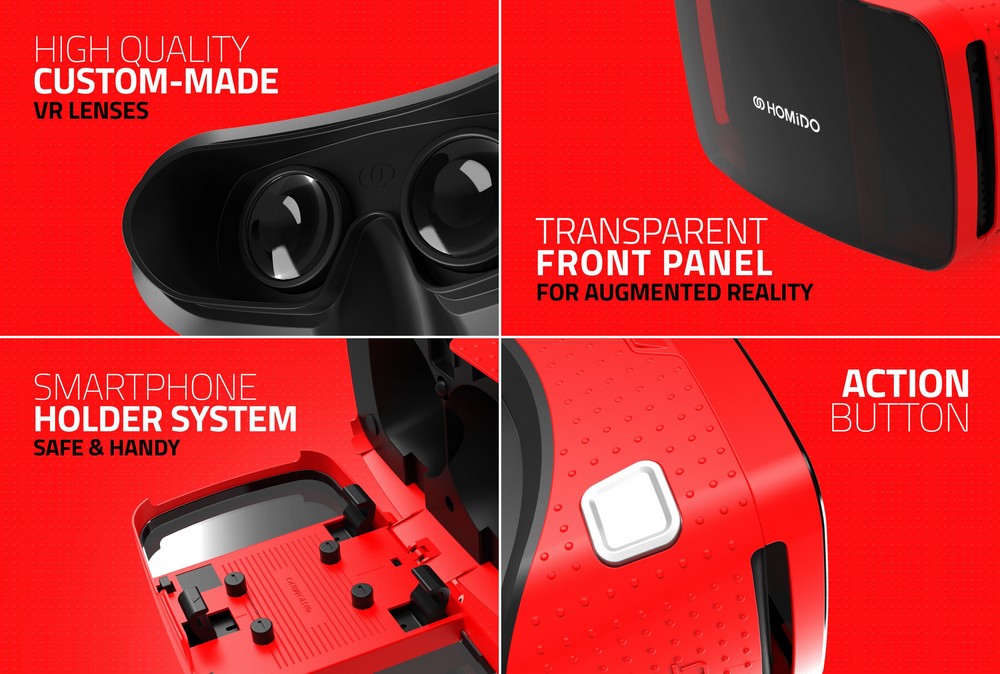 The manufacture company:
Homido
Product Specification
Compatibility:
Smartphones IOS and Android