Cisco N9K-SC-A System Controller
Please sign in so that we can notify you about a reply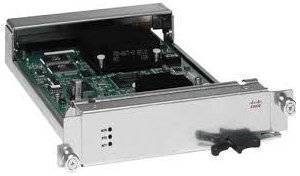 Cisco N9K-SC-A
The System Controllers of Cisco Nexus 9500 Series are used to offload the internal non-data-path switching and management functions from the supervisor engines. It also provides the pathway for access to the power supplies and fan trays.
The System Controllers are the intra-system communication central switches. It hosts two main control and management communication paths, Ethernet Out-of-Band Channel (EOBC) and Ethernet Protocol Channel (EPC), between supervisor engines, line cards and fabric modules.
All intra-system management communication across modules takes place through the EOBC channel. The EOBC channel is provided via a switch chipset on the System Controllers that inter-connects all modules together, including supervisor engines, fabric modules and line cards.
The EPC channel handles intra-system data plane protocol communication. This communication pathway is provided by another redundant Ethernet switch chipset on the System Controllers. Unlike the EOBC channel, the EPC switch only connects fabric modules to supervisor engines. If protocol packets need to be sent to the supervisors, line cards utilize the internal data path to transfer packets to fabric modules. The fabric modules then redirect the packet via the EPC channel to the supervisor engines.
The System Controller also communicates with and manages power supply units and fan controllers via the redundant system management bus (SMB).
The Cisco Nexus 9500 Series supports redundant System Controllers. When two System Controllers are present in a chassis, an arbitration process will select the active System Controller. The other one will assume the secondary or standby role to provide redundancy.