HP 500w Fs Plat Ht Plg Pwr Supply - 720478-B21
Please sign in so that we can notify you about a reply
HPE 500W Flex Slot Platinum Hot Plug Power Supply Kit
| | |
| --- | --- |
| How do you improve data center power efficiency without impacting IT performance? HP Flexible Slot Power Supplies provide up to 96% power efficiency with 80Plus Titanium-certified power supplies that lower server power requirements and reduce power waste in your data center. Flex Slot Power Supplies have a form factor that is 25% smaller than previous generation power supplies, providing more space to add additional server options and improve the performance of your servers. Flex Slot Power Supplies provide fast, tool-less hot plug access to server power supplies for greater serviceability and are supported across the entire ProLiant DL300 Gen9 Server family, simplifying your spares strategy and further reducing data center costs. Are you currently using or interested in the HP Power Discovery Services solution? Support for Power Discovery Services can be added to all ProLiant DL300 Gen9 Servers with the Flex Slot 800W Titanium or Flex Slot 1400W Platinum Plus Power Supply option. | |
The new Battery Backup Unit provides 750W of power for 60 seconds during a power glitch and has an external cable allowing daisy chained for paralleled connection
Launching 800W Flex Slot power supply with 96% efficiency, 80PLUS Titanium certified
Enabling -48VDC input option in Flex Slot form factor
800W universal Flex Slot power supply enables both 277VAC and 380VDC input options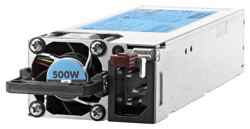 Improve Data Center Efficiency Without Impacting IT Performance
HP Flexible Slot Power Supplies provide up to 96% power efficiency with 80Plus Platinum-certified power supplies that lower server power requirements and reduce power waste in your data center.
The Flex Slot form factor is 25% smaller than previous generation Common Slot Power Supplies, providing more space to add additional server options and improve your IT performance.
Provides fast, tool-less hot plug access to server power supplies for greater serviceability.
Supported across all ProLiant DL300 Gen9 Servers, simplifying your spares strategy and reducing data center costs.
Continued support for HP Power Discovery Services with embedded power line communication technology available in the 1400W Platinum Plus option and 800W Titanium option.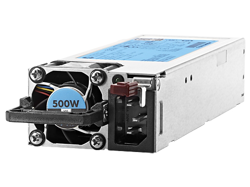 HP Flexible Slot Battery Backup enables new ways of providing backup power
HP Flexible Slot Battery Backup option is an HP innovation to provide 750W of battery power up to 60 seconds with Flex Slot form factor.
Daisy chained operation between two Battery Backup Units allows paralleled connection for pass through power sharing up to 500W between two HP ProLiant DL300 Gen9 series servers.
Free up required space needed for rackmount UPS without compromising server uptime.
Support all 500W and 800W Flex Slot power supply options and it is managed by the iLO management tool.
Product Specification
HP ProLiant DL300 Gen9 Servers