HPE-Aruba 5400R 700W PoE+ zl2 Power Supply
Please sign in so that we can notify you about a reply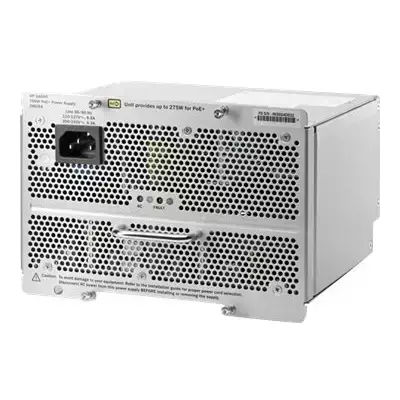 HPE J9828A Aruba 5400R 700Watt PoE+ (Power over Ethernet) zl2 Internal Power Supply Module

.
Power Redundancy - if any one of the power supplies should fail, the remaining supply or supplies provide the power to continue
running a fully loaded 5400R zl2 switch.

Power Load Sharing - with two supplies installed, each shares the power load, which increases the life of both of the power supplies.

Hot Swap Operation - you can add or replace one of the Power Supplies without having to shut down or reboot the switch.

Automatic Fault Detection - if the power supply encounters a problem, the Switch can immediately detect the condition and
report it by way of the Power Status and Fault LEDs on the switch and the Fault LED on the power supply.
Event messages will also be displayed in the switch console event log and the web browser interface Alert log.

Power and Fault LEDs - The Power LED (green) is lit when power is supplied to the power supply.
The Fault LED (orange) is lit when there is a fault condition with the power supply.
The HPE J9828A Switch zl2 Internal Power Supply is a redundant power supply that can be added to any of the HPE zl2 switches
to provide additional switch reliability.
This HPE J9828A zl2 Internal Power Supply can be paired within the same switch with J9829A and J9830A.
It supports the mixing of power supplies, but it is not recommended. This HPE zl2 Internal Power Supply automatically
adjust to any voltage between 100-127 and 200-240 volts and either 50 or 60 Hz.
Product Specification
Aruba 5406R zl2, 5406R-44G-PoE+/2SFP+ v2 zl2, 5406R-44G-PoE+/4SFP v2 zl2, 5406R-8XGT/8SFP+ v2 zl2, 5412R zl2
18.92 cm x 15.87 cm x 12.95 cm