TRENDnet TPE-E110 Gigabit PoE+ Repeater/Amplifier
Please sign in so that we can notify you about a reply
TRENDnet's Gigabit PoE+ Repeater/Amplifier, model TPE-E110, extends and amplifies a Gigabit PoE or PoE+ network connection to a remote location.
It auto-detects a PoE (15.4 Watts) or PoE+ (30 Watts) signal and extends it an additional 100 meters for a total distance of up to 200 meters (656 ft.)
from the PoE device. Daisy chain up to 7 units for a total PoE+ network extension of 800 m (2,600 ft.)*. A rugged metal enclosure and no need for
an external power adapter facilitate remote installations.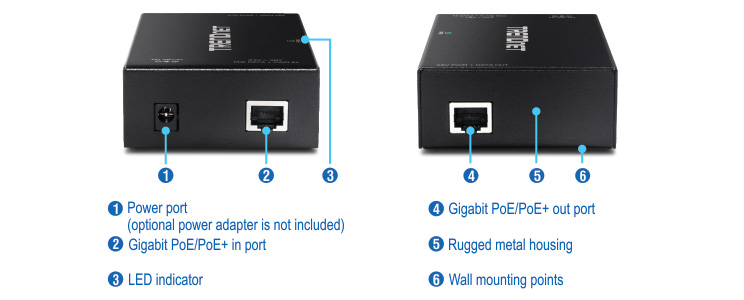 Extension Distance
Extends a PoE/PoE+ network connection an additional 100 meters for a total distance of up to 200 meters (656 ft.) from the PoE device
PoE/PoE+
Auto detects a 15.4 Watt PoE (IEEE 802.3af class 1-4) or 30 Watt PoE+ (IEEE 802.3at) network connection
Gigabit Ports
Gigabit ports extend a high performance wired connection
Daisy Chain


Up to 7 units for a PoE+ (802.3at) network connection
Up to 4 units for a PoE (802.3af) network connection

Plug and Play
Plug and play PoE/PoE+ network cables
PoE Powered
No external power required—saves installation time and cost
Mounting
Wall mounting points for remote installations
LED indicator
LED indicator confirms power
Housing
Rugged metal enclosure
Standards
IEEE 802.3
IEEE 802.3u
IEEE 802.3x
IEEE 802.3ab
IEEE 802.3af
IEEE 802.3at
Device Interface
1 x Gigabit PoE/PoE+ in port
1 x Gigabit PoE/PoE+ out port
1 x Power port (optional, power adapter is not included)
LED indicators
Installation mounting points
Data Transfer Rate
Ethernet: 10 Mbps (half duplex), 20 Mbps (full duplex)
Fast Ethernet: 100 Mbps (half duplex), 200 Mbps (full duplex)
Gigabit: 2000 Mbps (full duplex)
Performance
SRAM buffer: 96 KB
MAC Address Table: 2 K
Maximum packet length up to 1.5 KB
Special Features
Extends a PoE/PoE+ network connection an additional 100 meters for a total distance of up to 200 meters (656 ft.)
Cascade up to 7 repeaters/amplifiers*
Suports IGMP V1, V2 and IGMP snooping
Power
Powered by PoE/PoE+ Device
Consumption: 2 Watts (max.)
Optional Power Adapter * (Model Number: 48VDC0750)
Input: 100-240V 50/60Hz 0.75A
Output: 48VDC, 0.75A
Consumption: 36 Watts (max. with use of power adapter sold separately)
Operating Temperature
0 – 45 °C (32 - 113 °F)
Operating Humidity
Max. 90% non-condensing
Dimensions
75 x 125 x 33 mm (3.0 x 4.9 x 1.3 in.)
Weight
306 g (10.8 oz.)
Certifications
CE
FCC
Package Contents
TPE-E110
Quick Installation Guide
The manufacture company
TRENDnet
Product Specification
Interface
1 x Gigabit PoE/PoE+ in port ,
1 x Gigabit PoE/PoE+ out port ,
1 x Power port (optional, power adapter is not included) ,
Installation mounting points ,
LED indicators
Dimension
75 x 125 x 33 mm (3.0 x 4.9 x 1.3 in.)
Max. Power Consumption
36 Watts (max. with use of power adapter sold separately