TRENDnet TEW-722BRM N300 Wireless ADSL 2+ Modem Router
Please sign in so that we can notify you about a reply
TRENDnet's N300 Wireless ADSL 2+ Modem Router, model TEW-722BRM, is a combination high performance
modem for Internet access and powerful wireless N300 router—well suited for medium to large size homes.
The modem is compatible with most ADSL Internet service provider networks and it comes with an intuitive guided setup wizard.
For your convenience the wireless network is setup and pre-encrypted out of the box.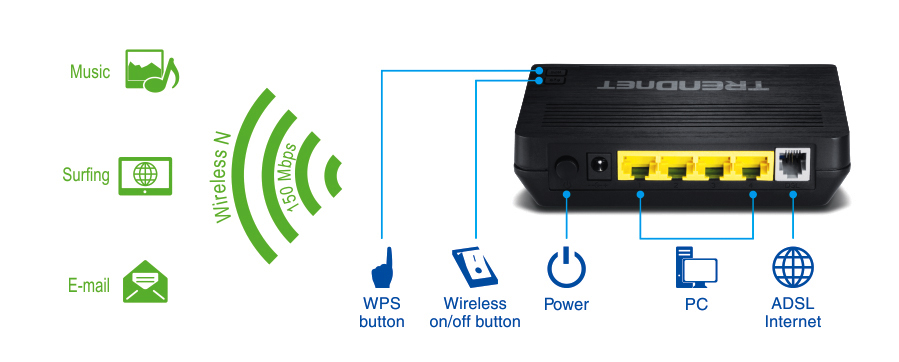 Easy Setup
Get up and running in minutes with the intuitive guided setup
Internet Service
Compatible with most ADSL 2/2+ internet service provider networks
N300 Wireless
Powerful 300 Mbps Wireless N
Wireless Coverage
Whole home wireless coverage with MIMO antenna technology for medium to large size homes
Pre-Encrypted Wireless
For your convenience the wireless network arrives pre-encrypted with its own unique password
Guest Network
Create an isolated network for guest internet access only
Wireless On/Off Button
Enable or disable the wireless network with the convenient on/off wireless button
One Touch Connection
Connect to the router at the touch of the Wi-Fi Protected Setup (WPS) button
Parental Controls
Control access to specific websites and manage which devices can access the router
Advanced QoS
Classify and prioritize different types of data such as video and audio transmissions
Energy Savings
Embedded GREENnet technology reduces power consumption by up to 50%

Ethernet Ports
Four Ethernet ports to hardwire devices

IPv6
IPv6 network support
ADSL Line Interface
ADSL: ANSI T1.413 Issue2, G.992.1 (G.dmt, Annex A, and Annex B), G.992.2 (G.lite)
ADSL2: G.992.3 (G.dmt.bis, Annex I, Annex J, and Annex L)
ADSL2+: G.992.5 (Annex L and Annex M)
Standards
IEEE 802.3
IEEE 802.3x
IEEE 802.3u
IEEE 802.3az
IEEE 802.11b
IEEE 802.11g
IEEE 802.11n (up to 300 Mbps)
Hardware Interface
4 x 10/100 Mbps LAN ports
1 x RJ-11 WAN port
WPS button / reset button
Wi-Fi on/off button
Power on/off button
LED indicators
Mounting points
Special Features
Dynamic DNS support for dyn.com, no-ip.com, and easydns.com
Pre-encrypted wireless network
Up to 4 SSIDs
TR-069, TR-064, TR-098, TR-111, and TR-143 remote management support
Port based flow control
Port mapping
Spanning Tree support
LLMNR
Energy saving GREENnet technology
Access Control
Wireless encryption: WEP, WPA / WPA2-PSK, WPA / WPA2-RADIUS
Firewall: NAT, ALG, Port Trigger, SPI, Virtual Server, Special Applications, DMZ Host, PPTP / L2TP / IPsec VPN Passthrough, Multicast Passthrough, IGMP, MLD, allow / deny ping request from internet
Parental (Access) Controls: MAC, URL, IP Filter, domain blocking
DoS protection
Packet filter
Quality of Service
WMM
DCSP
WFQ
SP
Internet Connection Types
PPPoE (RFC-2516 Dynamic IP / Static IP)
PPPoA (RFC-2364 Dynamic IP / Static IP)
IPoA (RFC-1483 Routed)
Dynamic IP (IPoEoA / MER with DHCP)
Static IP
Bridge Mode (RFC – 1483 Bridged)
CIP (RFC-1577 Classic IP / ARP over ATM)
IPv6 (Static, Auto-configuration (SLAAC / DHCPv6), PPPoE, IPv6 in IPv4 tunnel, 6to4, 6rd)
Management / Monitoring
Local / remote web based management
Remote management (HTTP, CLI, FTPD, HTTPS)
TR-069 Remote management
Upgrade firmware
Backup / restore configuration
Logging – internal / syslog / email
Reboot
Restore to factory defaults
Ping test
ATM F4/F5 Loopback Diagnostics
Traffic meter
Routing
Static
Dynamic (RIP v1/2)
Frequency
2.412 - 2.484 GHz
Modulation
802.11b: CCK (11 Mbps & 5.5 Mbps), DQPSK (2 Mbps), DBPSK (1 Mbps)
802.11g: OFDM with BPSK, QPSK and 16/64-QAM
802.11n: BPSK, QPSK, 16-QAM, 64-QAM with OFDM
Media Access Protocol
CSMA / CA with ACK
Antenna Gain
2 x 4 dBi internal
Wireless Output Power / Receiving Sensitivity
802.11b: 15 dBm (max.) / -70 dBm (typical) @ 11 Mbps
802.11g: 15 dBm (max.) / -65 dBm (typical) @ 54 Mbps
802.11n: 15 dBm (max.) / -64 dBm (typical) @ 300 Mbps
Wireless Channels
FCC: 1-11
ETSI: 1-13
Power
Input: 100 – 240 V AC, 50 - 60 Hz, 0.5 A
Output: 12 V DC, 0.5 A external power adapter
Consumption: 4 Watts (max.)
Operating Temperature
0 – 40 °C (32 – 104 °F)
Operating Humidity
Max. 95% non-condensing
Certifications
CE
FCC
Dimensions
126 x 109 x 25 mm (4.9 x 4.3 x 1 in.)
Weight
158 g (5.5 oz.)
Warranty
3 year limited
Package Contents
TEW-722BRM
Multi-Language Quick Installation Guide
CD-ROM (User's Guide)
Network cable (1.5 m / 5 ft.)
Power adapter (12 V DC, 0.5 A)
The manufacture company
TRENDnet
Product Specification
المعيار اللاسلكي
IEEE 802.3,IEEE 802.3x,IEEE 802.3u,IEEE 802.3az,IEEE 802.11b,IEEE 802.11g,IEEE 802.11n
Interface
1 x RJ-11 WAN port ,
4 x 10/100 Mbps LAN ports ,
LED indicators ,
Mounting points ,
Power on/off button ,
Wi-Fi on/off button ,
WPS button / reset button
Output power
Output: 12 V DC, 0.5 A external power adapter
Input Power
Input: 100 – 240 V AC, 50 - 60 Hz, 0.5 A
Output Frequency - sync to mains
2.412 - 2.484 GHz
Dimension
126 x 109 x 25 mm (4.9 x 4.3 x 1 in.)